Friends typically stayed out of politics, but they actually subtly predicted Hillary Clinton's runs for president in a season 5 joke. Friends follows a group of six New York City friends as they navigate their 20s and 30s in the late '90s and early '00s. The hit sitcom captivated TV audiences for 10 seasons, with 62 Emmy nominations, an award for Outstanding Comedy Series, and several features on publication lists of the greatest TV shows of all time.
Although the series takes place in a timeline from 1994-2004 that includes several notable American events, Friends rarely references current affairs, even only passively mentioning 9/11 with NYFD shirts worn by Joey Tribbiani. The series had two notable presidents during their timeline and never mentioned any of the biggest American political scandals of the time. Friends' cultural references are typically confined to pop culture with movies, television, fashion, and notable celebrities, whereas the broader global and political ongoings are left out of their lives.
In one of the only political jokes and references in Friends, the show actually had some keen insight into one of the biggest political phenomena of the last two decades: Hillary Clinton running for president. In a scene from the season 5 1999 episode "The One with Chandler's Work Laugh" where Chandler and Monica go to his boss Doug's house for dinner, Friends cuts to a scene at the end of a joke made by Doug. The joke says, "But seriously, I strongly believe that we should all support President Clinton. And her husband Bill." To Monica's clear annoyance, Chandler then gives his titular terrible work laugh to appease his boss.
Bill Clinton and Hillary Clinton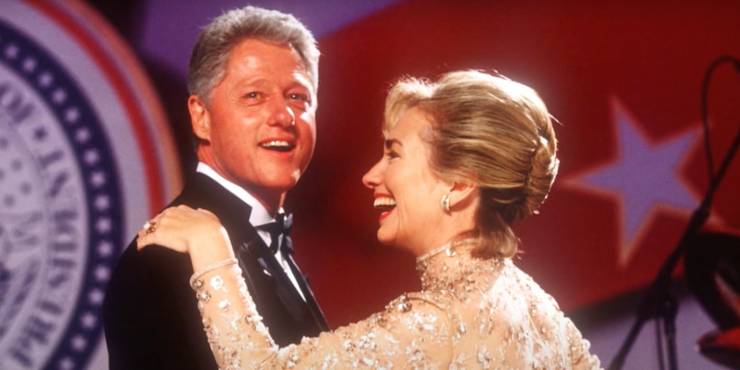 While the joke was referencing Hillary Clinton's involvement in politics that dated long before her marriage to the president, it actually predicted a presidential run that could've made The Simpsons jealous. By suggesting that Hillary was the real president instead of Bill, Friends subtly nodded to a subject that would become a forefront of politics for the next 20 years. Though her husband finished his second term in 2000, Clinton ended up running for president as the first Democratic female candidate in 2008 against future president Barack Obama. She lost the Democratic nomination to Obama but would run again after his two terms in 2016, sealing her status as Democratic nominee against Donald Trump. She would still come short in Electoral College votes in 2016, but her two attempts at the presidency are notable in American political history.
Bill Clinton was president during the first five to six seasons of Friends, though very little was actually mentioned of his policies or controversies, including the notorious scandal involving his White House intern Monica Lewinsky. Aside from the sly Hillary and Bill Clinton presidency nod in the fifth season, the only other major political reference to the Clinton Administration was in the 1994 season 1 episode "The One with George Stephanopoulos." The girls find out that Clinton's political advisor is in the apartment building across from them and accidentally got their pizza, so they spy on him for the rest of the night. Though they don't actually reference his political stances or actions, he gets more screen-time references than any other political figure during Friends 10-season run.