What was the story behind Robin's full name in How I Met Your Mother? The character, whose full name was Robin Charles Scherbatsky Jr., was portrayed by Cobie Smulders in the sitcom series. She was not the "Mother" of Ted's children, but the pair did end up together when the series ended in 2014.
Robin was introduced as a potential love interest for Ted Mosby (Josh Radnor) but she later became a good friend to Lily (Alyson Hannigan), Marshall (Jason Segel), and Barney (Neil Patrick Harris). She was a news anchor for a local station and she had a number of interesting hobbies. Besides smoking cigars and drinking scotch, Robin frequently visited the gun range. She was often teased by her friends for being Canadian – more specifically for her history as the teenage Canadian popstar, Robin Sparkles.
Like all of the characters in How I Met Your Mother, Robin suffered from a number of relationship and career struggles. Robin craved success and the attention that came along with it, something that Ted and Barney realized was a result of the emotional distance caused by her father. Robin's relationship with her father was rocky since she was born and her name, Robin Charles Scherbatsky Jr., was evidence of that notion.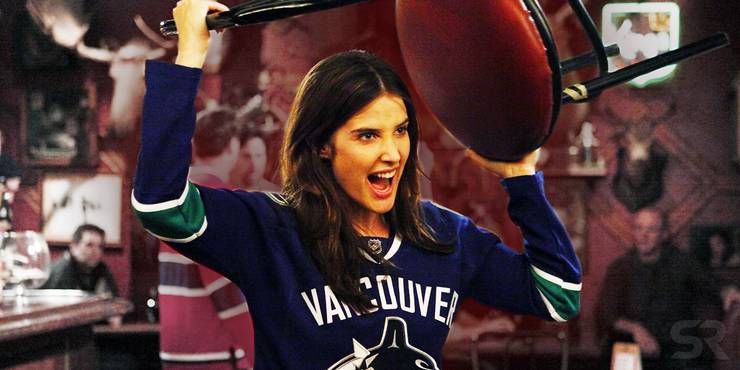 In How I Met Your Mother season 4, details surrounding Robin's childhood was unearthed. The episode "Happily Ever After" featured Robin's father, Robin Charles Scherbatsky Sr., in a number of flashbacks. He named her Robin Charles thinking that his wife was having a baby boy. He didn't want to give up his namesake, so he stuck with the name and raised her as a boy. Robin Sr. taught his daughter, who was a son in his eyes, how to hunt, fish, smoke cigars, and drink the best scotch. Robin Jr. went along with it because her father treated her better when she showed an interest in his hobbies.
When she was a teenager, Robin played on a boy's peewee hockey team. She was then caught kissing one of her teammates, which made her father realize that he didn't have a son. Robin then went to move with her mother before she embarked on her singing career as Robin Sparkles. The relationship between Robin and her father fell apart, and it stayed that way well into her adult life.
During the funeral for Marshall's dad, Robin realized that she wanted to patch things up with her dad. His last words to her were that she was a disappointment and she wanted to prove him wrong. Robin's relationship with Robin Sr. didn't get back on track until How I Met Your Mother season 8. She realized that they weren't involved in each other's biggest life moments and she wanted to change that. Robin always wanted a normal relationship with her father but that's not always attainable so they agreed to compromise.