A middle-aged father of two named Ted sits his kids down one day to tell them the story of how he met their mother. In flashbacks, we go back to the time when Ted was a young architect who was a romantic at heart, trying to find love in Manhattan. In the process, Ted picks up a tight group of friends that include Marshall (Jason Segel), Lily (Alyson Hannigan), Robin (Cobie Smulders), and Barney (Neil Patrick Harris). Together, the group has a series of zany romantic escapades, which future-Ted looks back on with a mix of nostalgia and occasional sadness.
The "talk like a baby" challenge

Sex came so easy to Barney Stinson (Neil Patrick Harris) that he often tried to mix things up by creating his own challenges for picking up women. Like hooking up with a 22-year-old while wearing old man make-up. Or seducing a bridesmaid over the phone. Or the most convoluted of them all, getting a girl's number in a garbage bag, without using the letter "e."
How Lily stole Christmas

Lily (Alyson Hannigan) is generally considered the sweetest character on "How I Met Your Mother." But that does not mean she hasn't done her fair share of bad things. So much so that there is an entire episode entitled "How Lily Stole Christmas" (Season 2, Episode 11).
Delivering the ultimate slap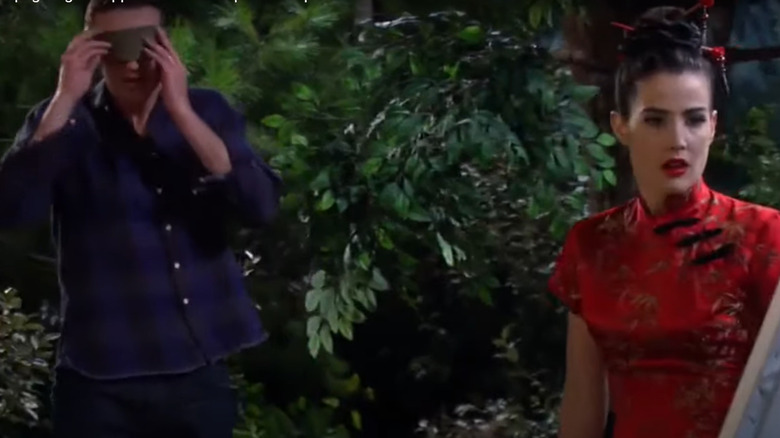 The "slap bet" has been one of the cornerstones of the "How I Met Your Mother" mythology. It all started when Marshall won a bet that allowed him to deliver 5 slaps to Barney. Later the number went up to 8. Each of the slaps were epic in their own way. But the one that took the cake was the penultimate slap that Marshall delivers in "Slapsgiving 3: Slappointment in Slapmarra" (Season 9, Episode 14).
Ted and Marshall's passive-aggressive war
Ted and Marshall are generally considered the closest friends in "How I Met Your Mother." The two are also considered very nice guys, particularly Marshall. Which was why it was particularly hilarious watching the two go to war in the most passive-aggressive manner in "The Poker Game" (Season 9, Episode 5) over thank-you notes.
Robin screaming at Patrice

Robin (Cobie Smulders) is usually depicted as the "cool" girl of the gang, who has a thriving career, masculine interests, and tries to stay away from the usual girly drama. But there is one person who makes Robin lose her cool — and that is her ever-smiling, ever-helpful colleague Patrice (Ellen D. Williams).
Ted trying to spell "Professor"

Ted is the kind of guy who takes his job seriously. One of the most relatable moments from his professional career occurred in "Definitions" (Season 5, Episode 1). On his first day as a college professor, Ted faced an unexpectedly tough challenge when he tried to write "Professor Mosby" on the blackboard.
Barney tearfully yelling at an old lady

Barney is typically the essence of composure under duress, unless he's trying to do a "bit." But one time, Barney actually did lose his cool and ended up screaming at an elderly lady. The breakdown occurred in "Good Crazy" (Season 7, Episode 22) when Barney was engaged to be married to Quinn (Becki Newton), an exotic dancer.
Pointing out each other's flaws

The thing that separated the main cast of "How I Met Your Mother" from other sitcom characters of the time was that they were not exactly "super nice" people all the time. Each suffered from quite a few glaring character flaws, which they were mostly unaware of until forced to take a long, hard look at themselves. Something like that occurred in "Spoiler Alert" (Season 3, Episode 8).
The many interventions

As mentioned previously, the main characters on "How I Met Your Mother" suffered from a great many personality flaws/quirks. So much so that it became a running joke to have the gang host an "intervention" for a member of the group. This gag was explored to hilarious effect in "Intervention" (Season 4, Episode 4).
The movie based on Ted

Before Ted met the titular "Mother" of the series, a major relationship he had was with Stella (Sarah Chalke). Although Ted was willing to go the whole way with Stella, she left him at the altar to get back together with her ex, karate-instructor Tony (Jason Jones). Adding insult to injury, we find out in "The Wedding Bride" (Season 5, Episode 23) that Tony made a movie about the whole affair.
The Council of Barneys

As the breakout character of the series, some of the funniest bits of "How I Met Your Mother" revolved around letting Neil Patrick Harris loose to act his heart out as Barney. One such sequence has Barney meeting with an entire council of lookalikes in "Bedtime Stories" (Season 9, Episode 11).