1. Stephanie Beatriz as Rosa Diaz in Brooklyn Nine Nine.
"She has a much higher voice and is much more peppy than her character IRL. It's like looking at two different people!"
2. Tom Hiddleston as Loki in Thor: Ragnarok.
"Tom seems so different to the manipulative and damaged Loki character."
3. Tom Felton as Draco Malfoy in the Harry Potter movies.
"I watched this video of him breaking security rules to go and give a fan a hug because she was upset and crying. Sorry, but Draco would NEVER."
4. Angela Kinsey as Angela Martin in The Office.
"They're like night and day! If you follow her on Instagram or listen to The Office Ladies podcast, you'll know exactly what I mean."
5. Kerry Washington as Olivia Pope in Scandal.
"Olivia is apolitical, power-hungry, and often sacrifices her morals. Kerry is not like that at all."
6. Alan Rickman as Snape in the Harry Potter movies.
"He had a great sense of humour and was very kind. Alan was very different to the kind of bad guys he was famous for portraying."
7. Ming-Na Wen as Agent May in Agents of S.H.I.E.L.D.
"She's so serious as Agent May, but IRL she seems like a very fun person!"
8. Leighton Meester as Blair Waldolf in Gossip Girls.
"Yeah, she was literally the opposite of spoiled! She was born while her mom was in prison and was partially raised in a halfway house— her aunt was even the first woman on the US Marshals 15 Most Wanted list for escaping from prison!"
9. Misha Collins as Castiel in Supernatural.
"The writers even made an episode, The French Mistake, that highlighted their differences!"
10. Sandra Oh as Christina Yang in Grey's Anatomy.
"Every time I see her in interviews, Sandra seems so polite and considerate. Christina Yang is neither of those things."
11. Dianna Agron as Quinn Fabray in Glee.
"Watch her first episode and then literally any interview with her. Night and day IMO."
12. Tati Gabrielle as Prudence on The Chilling Adventures of Sabrina.
"I was shocked when I heard her real voice. It's so sweet and nothing like Prudence's!"
13. Emilia Clarke as Daenerys in Game of Thrones.
"She seems like a lovely, silly person in real life, unlike her serious counterpart on screen."
14. Megan Mullally as Karen Walker in Will & Grace.
"Karen is a stereotypical rich person who insults people, and she also has a really distinct high-pitched voice. Megan, on the other hand, is calm and funny (and definitely does not have *that* voice)."
15. Jason Mantzoukas as Rafi in The League.
"He's completely different to his chaotic (and slightly unhinged) characters in real life. I hear he's a really deep guy – introspective, thoughtful, articulate, and just an all-round nice person."
16. Imelda Staunton as Dolores Umbridge in the Harry Potter movies.
"They're so unlike one another that it's almost scary. She's so happy and cheerful in interviews, and even though she fired Emma Thompson's character (Trelawney) in the film, the actors are actually good friends off-screen!"
17. Steve Carell as Michael Scott in The Office.
"He's not an annoying guy in real life, but he plays one so well."
18. William Jackson Harper as Chidi Anagonye in The Good Place.
"His character was very highly-strung, but William seems much more chill off-screen. In fact, he said in an interview that his version of 'the good place' is relaxing at home with his girlfriend – he seems to really enjoy life's simple pleasures, and doesn't take himself too seriously."
19. Rowan Atkinson as Mr Bean in the Mr Bean franchise.
"Mr Bean is famously silent and sometimes seems a little dim, but in reality Rowan Atkinson has a master's degree from Oxford and began his career with the highly verbal character of Edmund Blackadder. The jury's still out on how he feels about teddy bears, though."
20. Bill Hader as Barry in Barry.
"Barry hardly laughed on the show, and his attempts to smile were pretty creepy. Meanwhile, Bill Hader cracked up all the time on SNL and in interviews!"
21. Diane Guerrero as Martiza Ramos in Orange Is The New Black.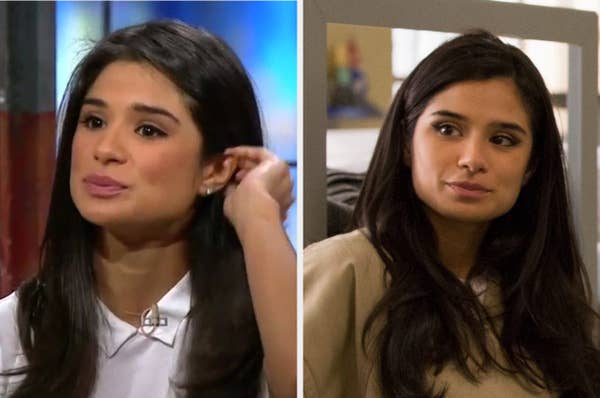 "She seemed a little ditsy and superficial at times in the show, but the actor has actually written a really powerful book and does amazing work on immigration."
22. Blake Lively as Serena Van Der Woodsen in Gossip Girl.
"Blake's a lot more wholesome and funny than Serena. In a Vogue article, she said 'I would not be proud to be the person who gave someone the cocaine that made them overdose and then shot someone and slept with someone else's boyfriend'. Also, to some extent she actually works for wealth, which Serena would never do."
23. Hugh Jackman as Wolverine in Wolverine.
"Jackman is actually super nice and friendly, and he also seems very goofy and dorky. And he loves performing, which is the last thing you'd ever expect to see Wolverine doing."
24. Kunal Nayyar as Rajesh Koothrappali in The Big Bang Theory.
"He plays a sloppy, bumbling man on screen who's really awkward around women. In reality, though, he's really stylish – and as for being bad with the ladies, well, he's married to a former Miss India. So, yeah."
25. Vanessa L. Williams as Wilhemina Slater in Ugly Betty.
"She wasn't all bad on the show, but she was definitely cold and incredibly unfriendly. If you see her in interviews or on RuPaul's Secret Celebrity Drag Race, though, she seems super fun and giggly!"
26. Danny Trejo as, well, pretty much every Danny Trejo character.
"He also insists his characters always suffer in the film so that kids don't think crime pays!"
27. Mads Mikkelsen as Hannibal Lecter in Hannibal.
"Mads is literally SO wholesome and goofy and just a goddamn joy, and could NOT be any more different from the psychopathic, manipulative, murderous cannibal that he plays!! (Also, he used to be a dancer, and he was REALLY good!)"