the one with the aprons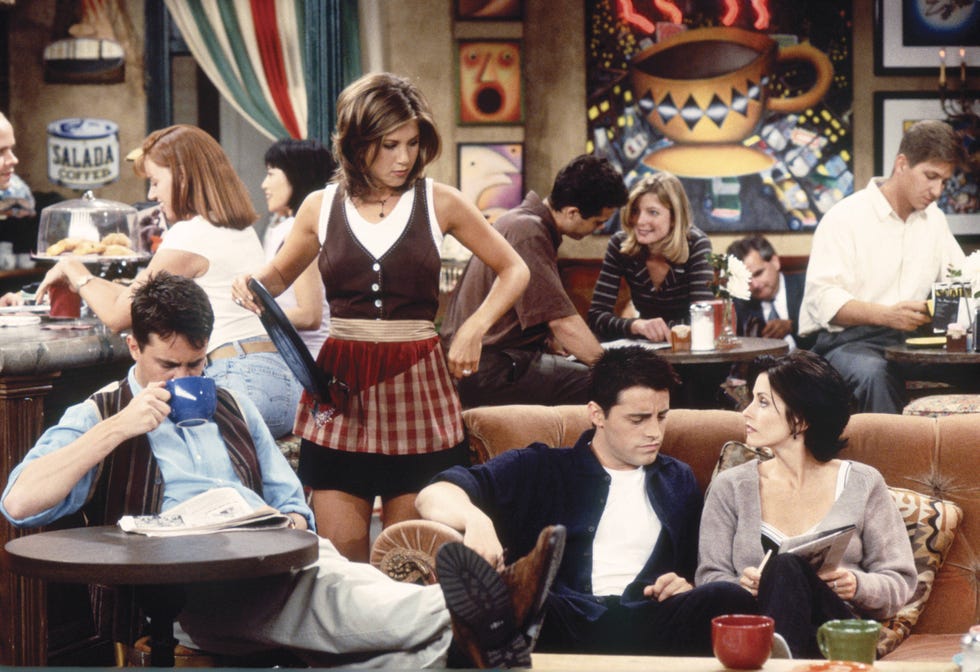 YAY for Rachel's coffee house wardrobe: the 90s tees, the mini skirts, THE APRONS – we love it all.
the one with the amazing shoes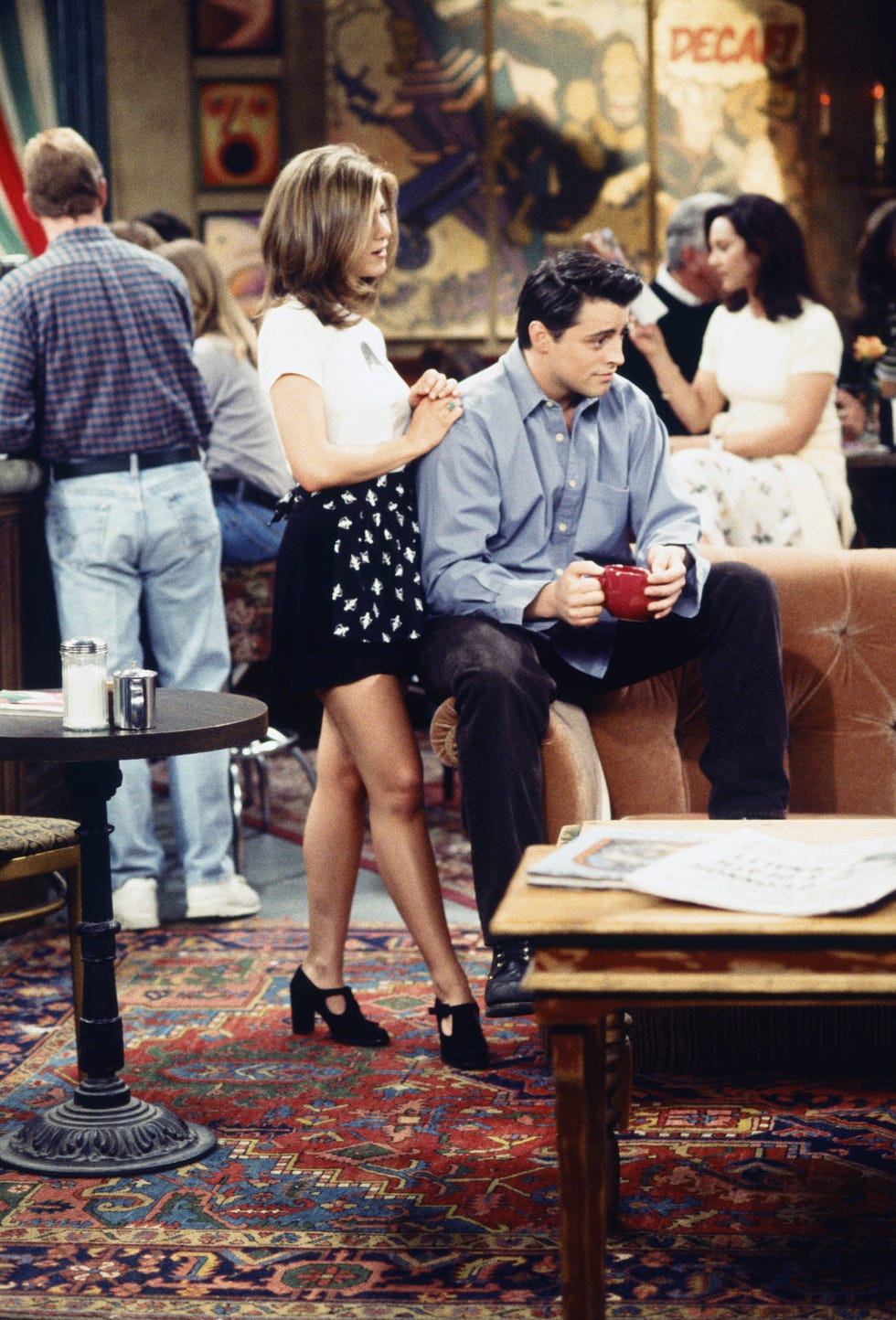 Rachel Green may have been on her feet all day at Central Perk but that didn't stop her rocking a cut-out, heeled shoe boot. SO ahead of her time…
the one where rachel clashed her prints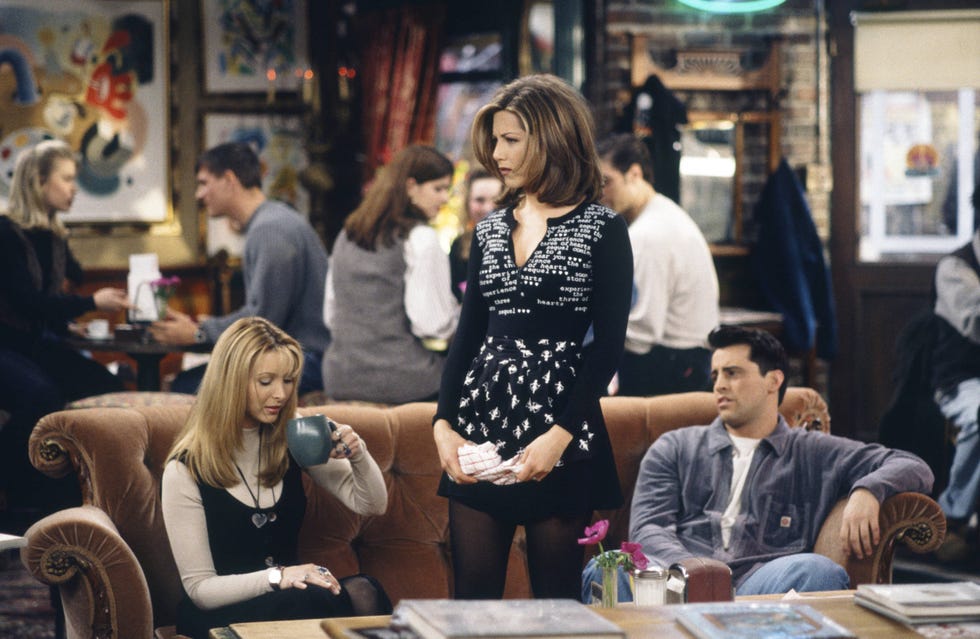 Rachel didn't get see her apron as a uniform, oh no! She used said apron to create a fashion statement involving some seriously clashing prints.
the one where rachel wore burgandy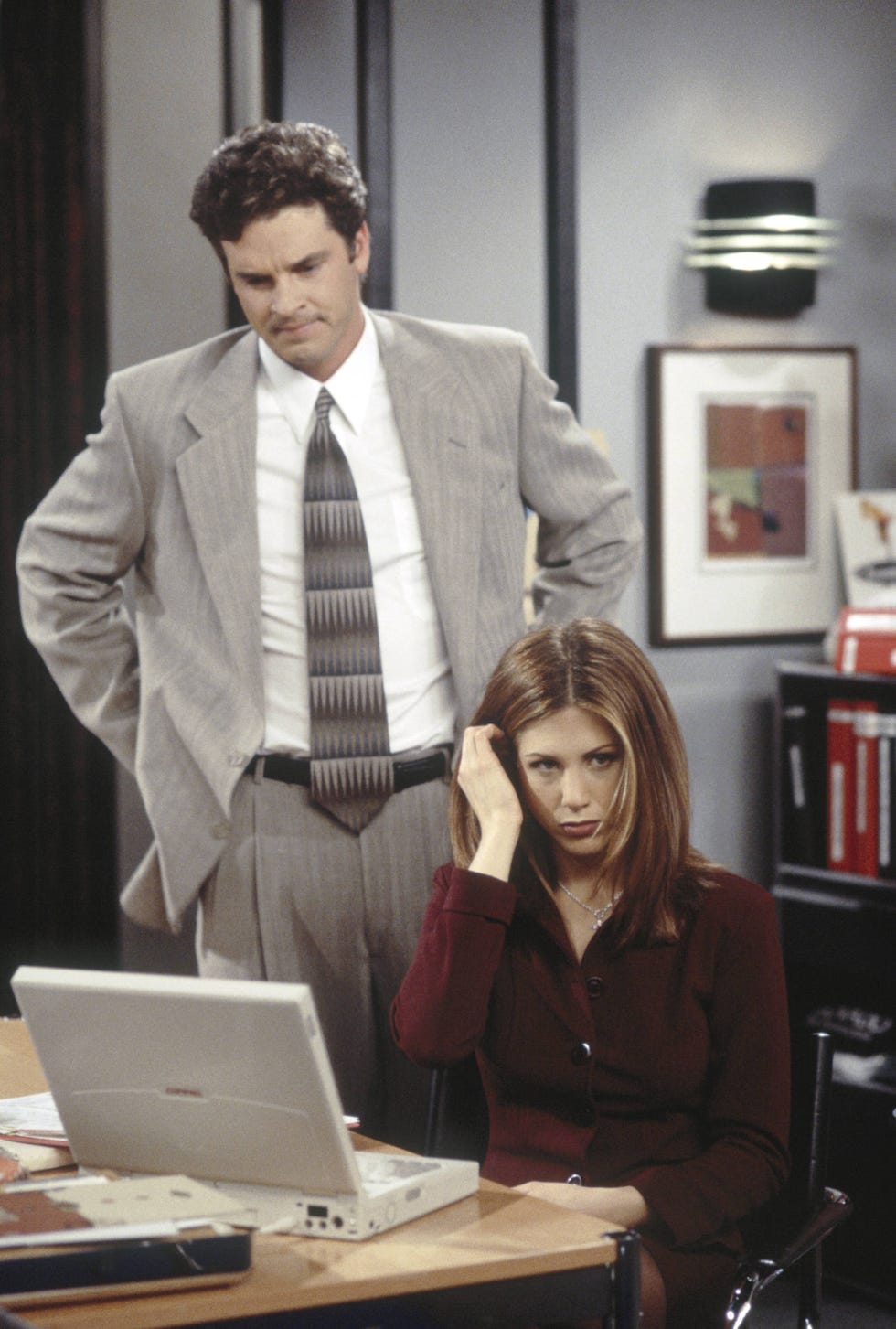 At Fortunata Fashions, Rachel's first office-based job, she kept her look business-like rather than stylish. She was also trying to avoid the advances of Mark, remember, so the more plain and boring, the better.
the one with the matching coat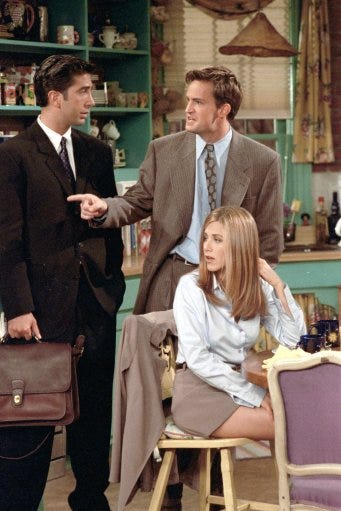 If there is just one thing you take away from Rachel's workwear wardrobe, it should be the importance of matching your coat to the rest of your clothes.
the one with the black tights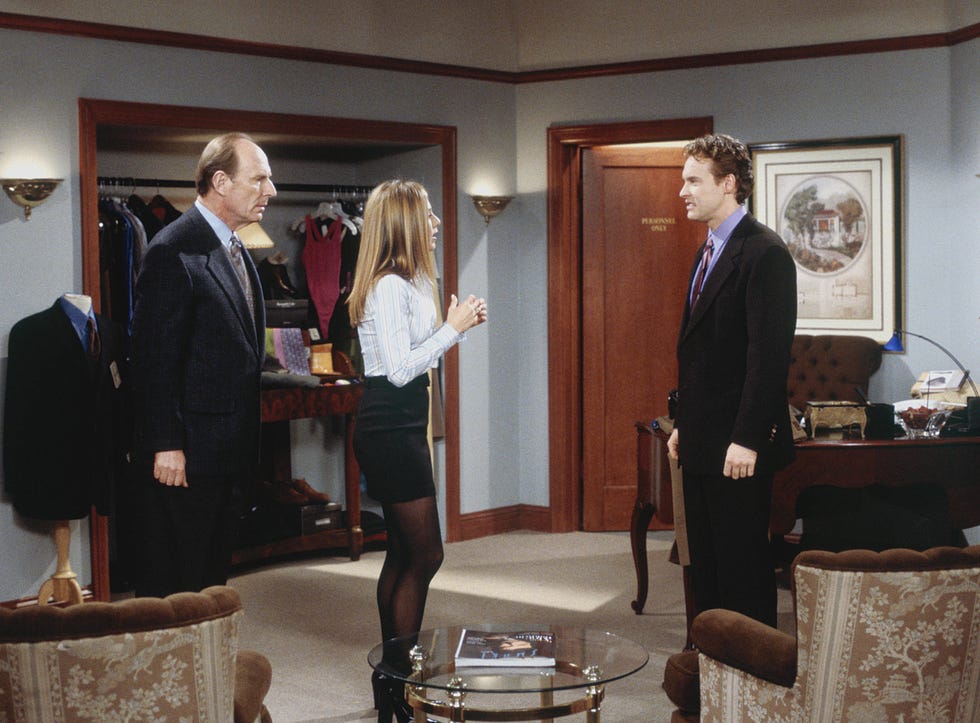 When Rachel was working as a personal shopper, heels, black tights and a smart shirt-meets-mini-skirt combo was key.
the one with the pretty dress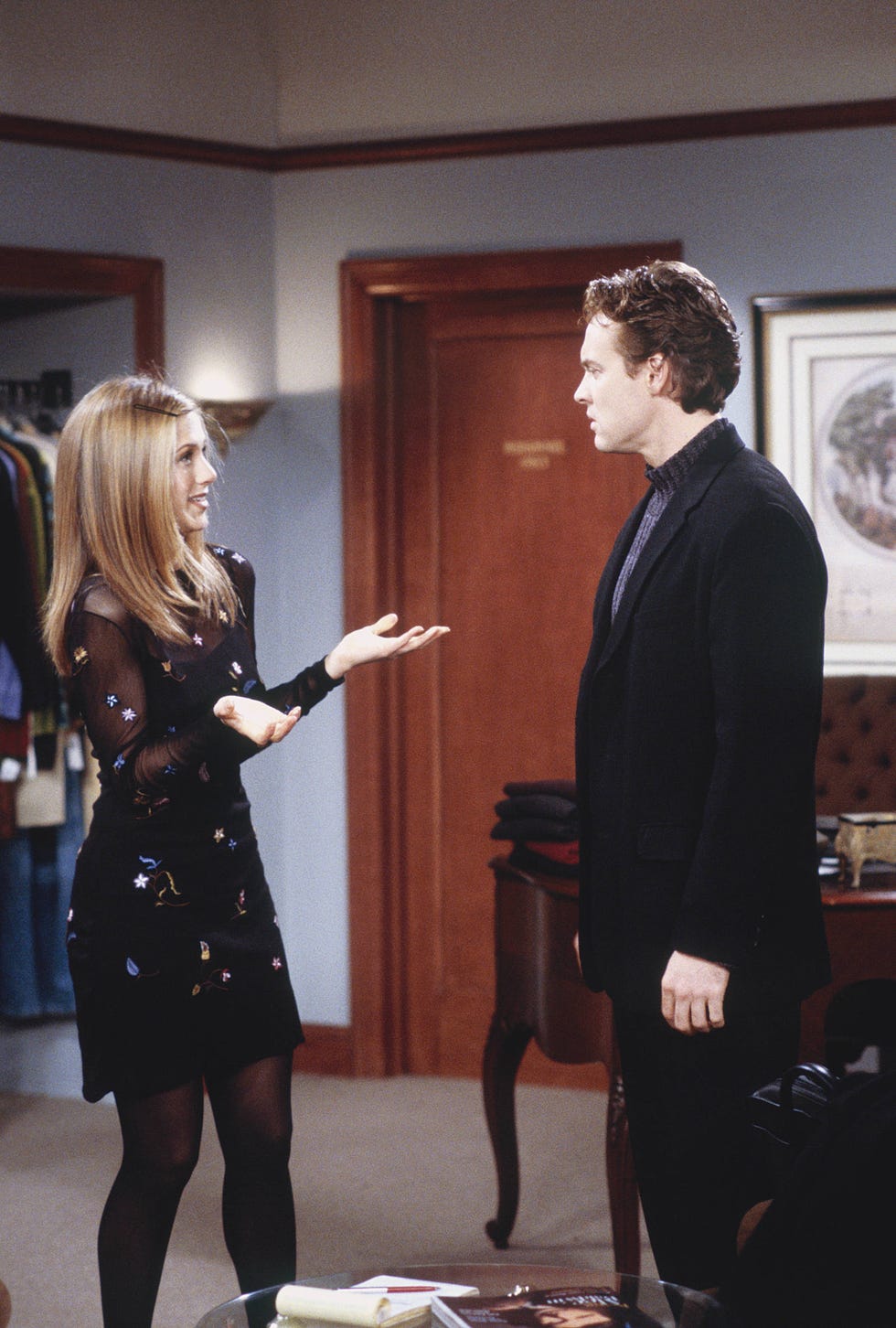 Rachel met Joshua while working at Bloomingdales, so her workwear became a little more "notice me, please god just notice me!" than before. Not that we blame her, we'd wear a little sheer number around Josh, too.
the one with the holiday blouse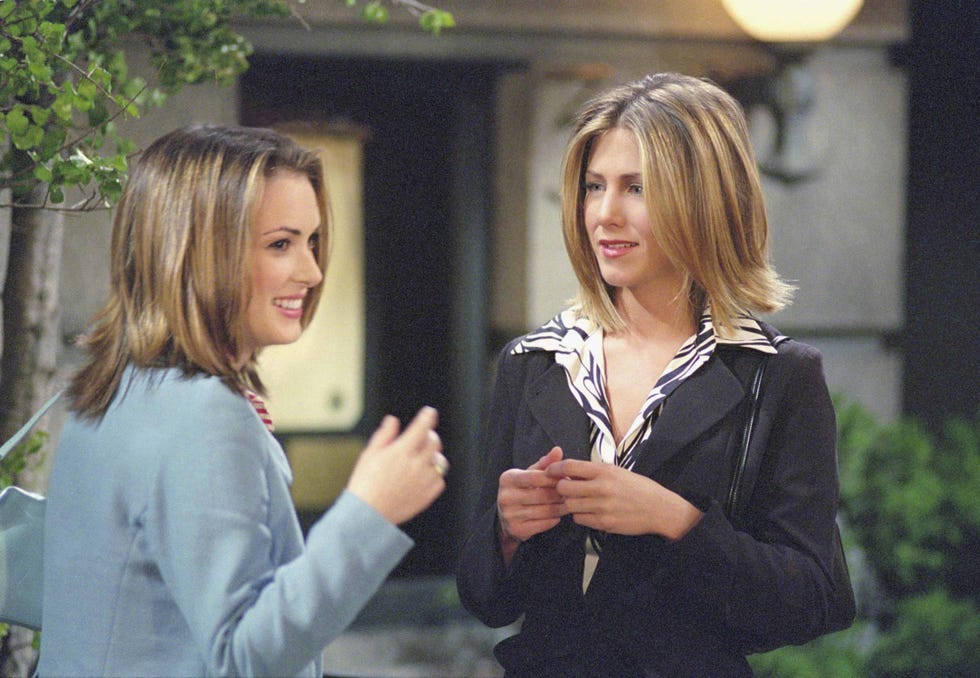 Don't be afraid to go bold with your prints because as Rachel proves, a printed shirt can look fab under a smart and simple black blazer. So fab, in fact, that old friends might just fall in love with you.
the one with the leather jacket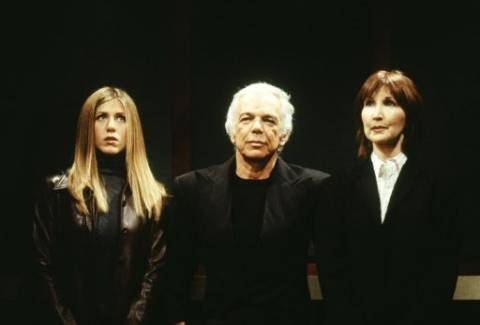 Rachel's Ralph Lauren days were her time to experiment with style. Cue her black roll-neck knit and brown leather jacket combo – SO on trend right now.
the one with the leather skirt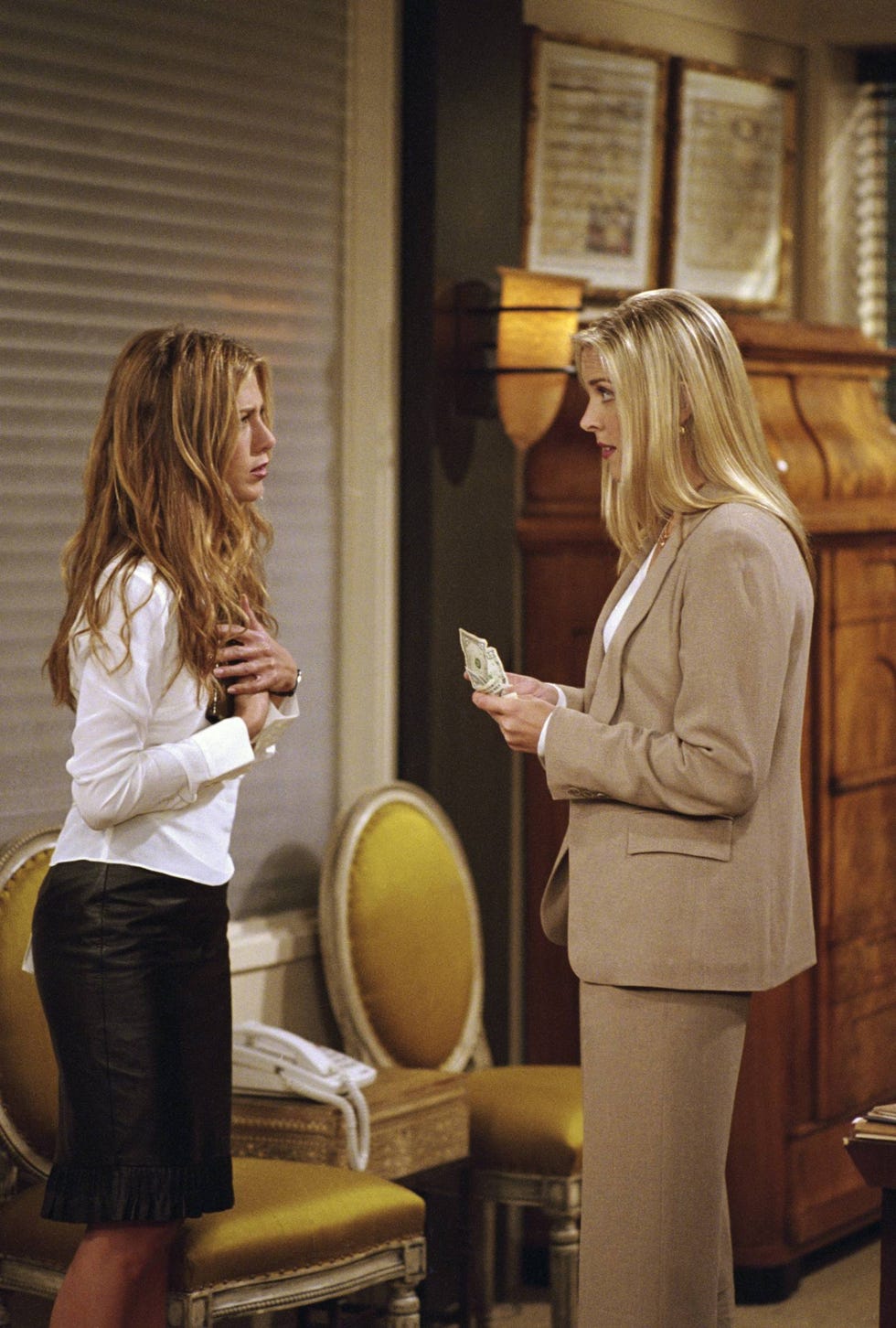 How to wear a leather skirt to work without looking too sexy – a hard task for our Rach? Team with a simple white shirt and un-done hair. Hmm…
the one where rachel wore check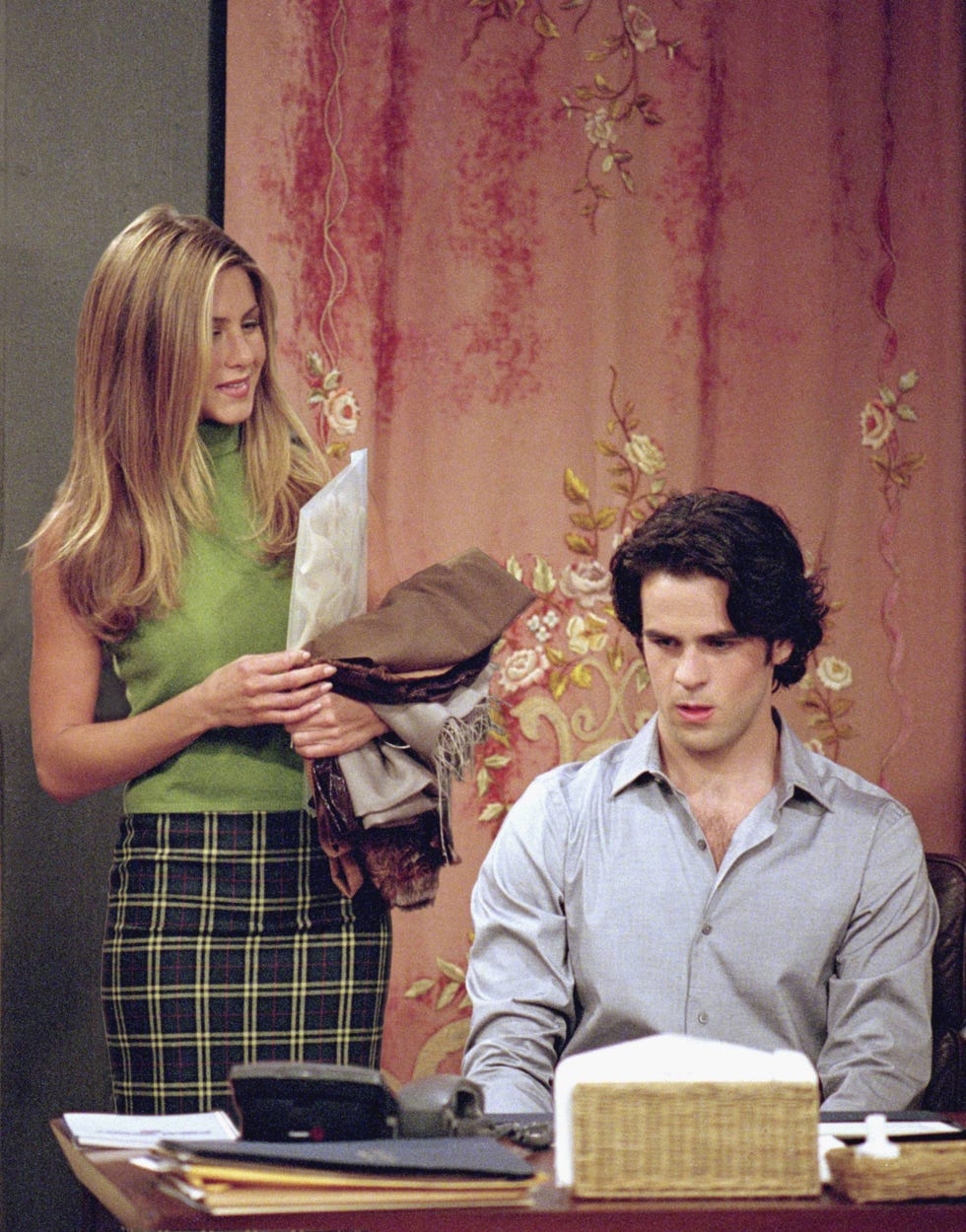 Remember when Rachel fancied Tag and she wore this gorgeous check pencil skirt and green, short-sleeved, roll-neck knit? Yeah we don't remember it either! Wonder why we were so distracted…
the one with the tie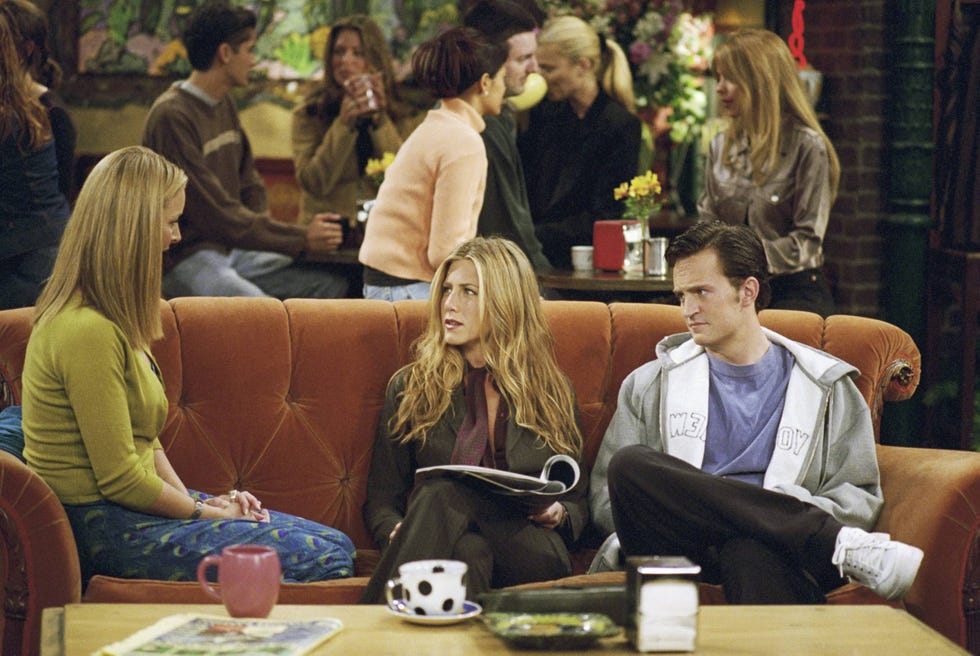 Rachel spiced up this otherwise dull grey suit with a printed tie and un-done blouse. Amazing.
the one with the pinstripe shirt and neck-tie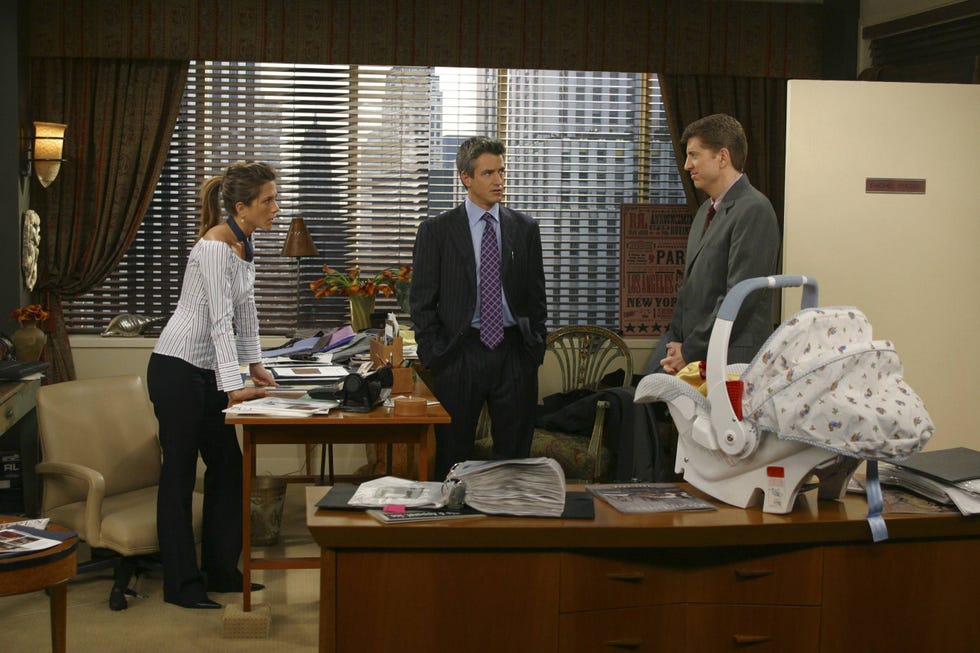 We love Rachel most when she pushes the boundaries and adds a twist to her otherwise classic looks. Case and point? When she returned to work after having Emma wearing a pinstripe shirt and NECK TIE. Love it.
the one with the waistcoat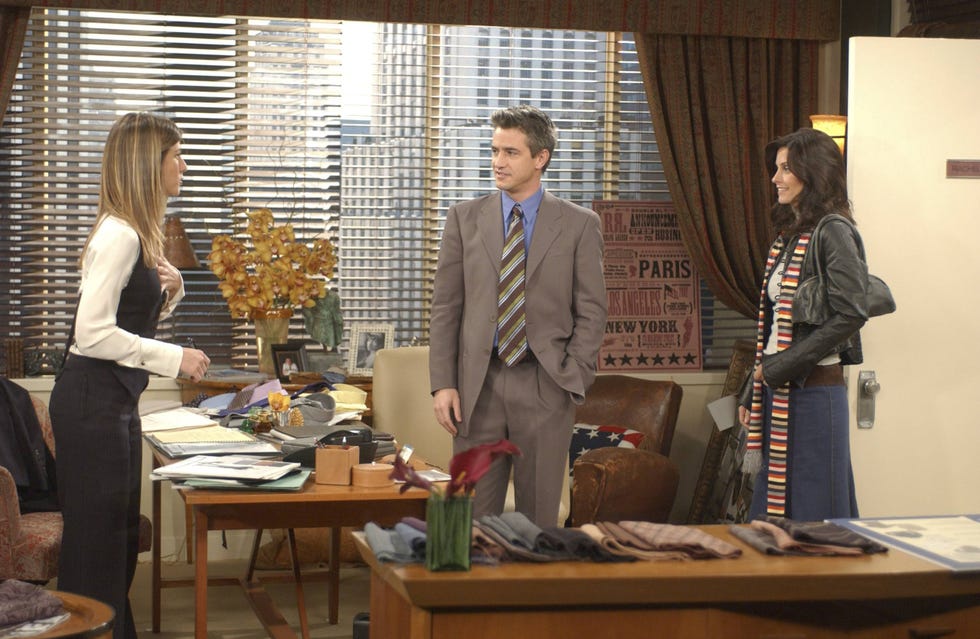 Rachel's post-baby workwear wardrobe continued on a strong note with this wide-leg trouser and waistcoat combo. Take THAT, Gavin.
the one with the simple suit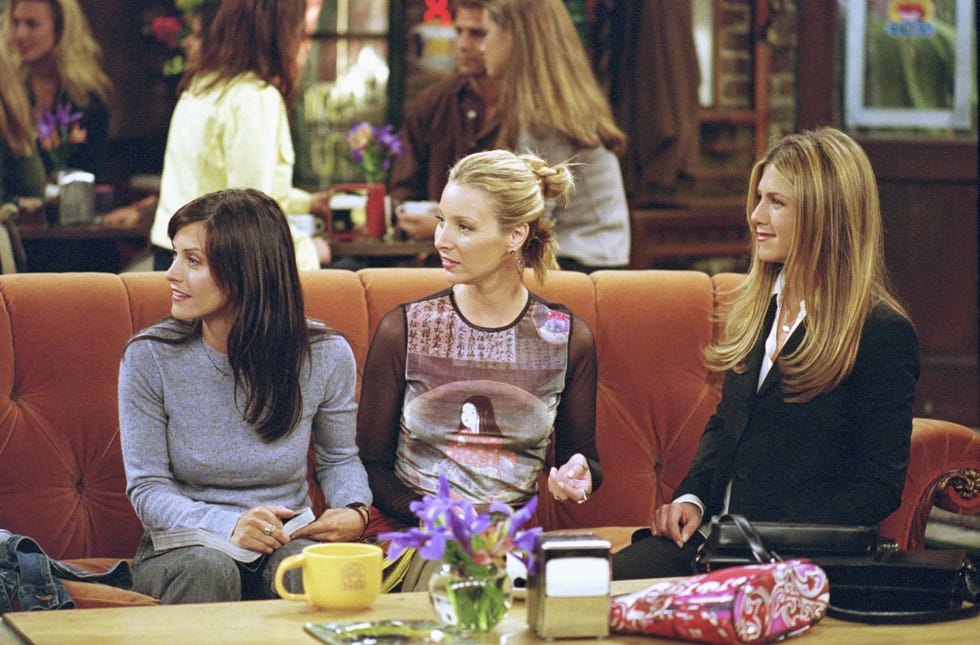 If there's one thing we've learned from Rachel's workwear wardrobe it's that chic, classic separates will ALWAYS look great as long as your hair does. #Fact.
the one with the interview outfit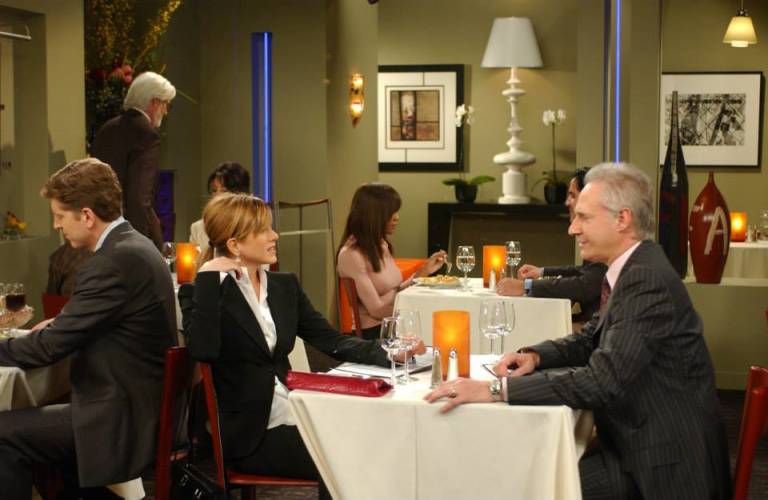 At least Rachel looked amazing when she was caught interviewing for another job (at Gucci, btw). LOVE that unbuttoned collar situation – and the sleek up-do.