Friends star Jennifer Aniston explains why the recent HBO Max reunion turned out to be more difficult than she expected. Premiering in May after delays due to the COVID-19 pandemic, the reunion was hosted by James Corden and brought back stars Aniston, Courteney Cox, Lisa Kudrow, Matt LeBlanc, Matthew Perry and David Schwimmer for a feature-length special event.
The reunion, which has been nominated for three Emmy Awards, saw the six cast members revisit the sets of the original show. They also spoke with some recurring actors from the series, and performed table reads of some of the most memorable Friends episodes. The special paid service to the countless loyal fans who had been begging to see the iconic sitcom characters reunited for years.
During an interview on the Literally! With Rob Lowe podcast (via Comic Book), Aniston spoke candidly about the fact that the reunion was ultimately much more emotionally difficult than she expected it would be. Initially, the actress admitted to thinking that the HBO event would be akin to a fun bit of "time travel." However, when she was surrounded by the virtually unchanged Friends set, Aniston was struck by how much time had really passed. Read Aniston's full quote below:
"I think it really took us all down way harder than we anticipated. Because in your mind, you think, 'Oh, this will be really fun to time travel.' It turns out, oh, ouch – it's kind of hard to time travel. Because you're going back to a time and mind you it is when I say the set was put back exactly, it was the exact same everything. Down to the little tchotchkes on the shelves and little tiny things that had been in a storage space for this whole time. All of a sudden, here you are. And, you know, 16 years, a lot has gone on for each of us."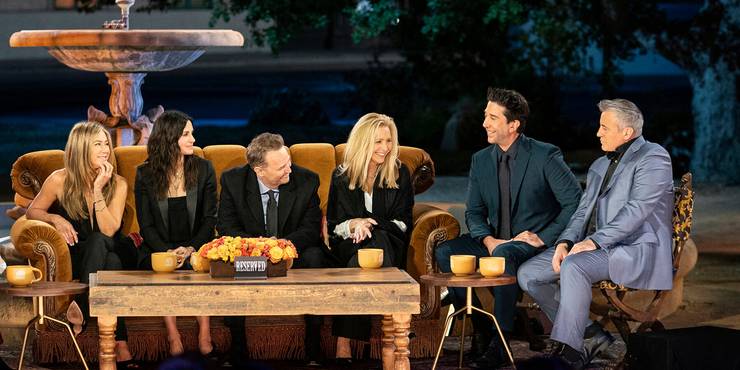 Aniston goes to note that even LeBlanc, who she describes as a tough guy, got "a little misty-eyed." The emotional attachment to the reunion from the original Friends cast was arguably the most memorable and effecting element of the special. In fact, it was part of the reason why some long-time fans found themselves perplexed as to why it included so many special guests. While it's true that the celebrity cameos added a bit of variety, and the Corden interview portion led to the reveal of Aniston's shared crush with Schwimmer, the relatively few moments with just the six core actors were what many viewers had tuned in to see. And, judging from Aniston's comments, those moments stemmed from emotions that weren't always the happiest or simplest to label. For this reason, it may ultimately have been more effective to limit the Friends reunion to the show's six regulars.
Still, even if audiences didn't get a chance to see a lot of it, it's clear that the reunion was quite cathartic for the cast. As it neared a conclusion, they all agreed that they wouldn't wait so long before getting together again. It's a moment that undoubtedly resonated with so many people watching who, like the cast themselves, may have drifted away from a previously close-knit group for one reason or another. It's an experience that taps into the universality that has made Friends such a global phenomenon.