Here are 15 ways TV shows hid an actor's pregnancy from super well to super terrible.
1. First, When Lisa Kudrow got pregnant during Season 4 of Friends, the writers decided to include her pregnancy in the show. Phoebe soon became a surrogate for her brother, Frank, and Alice.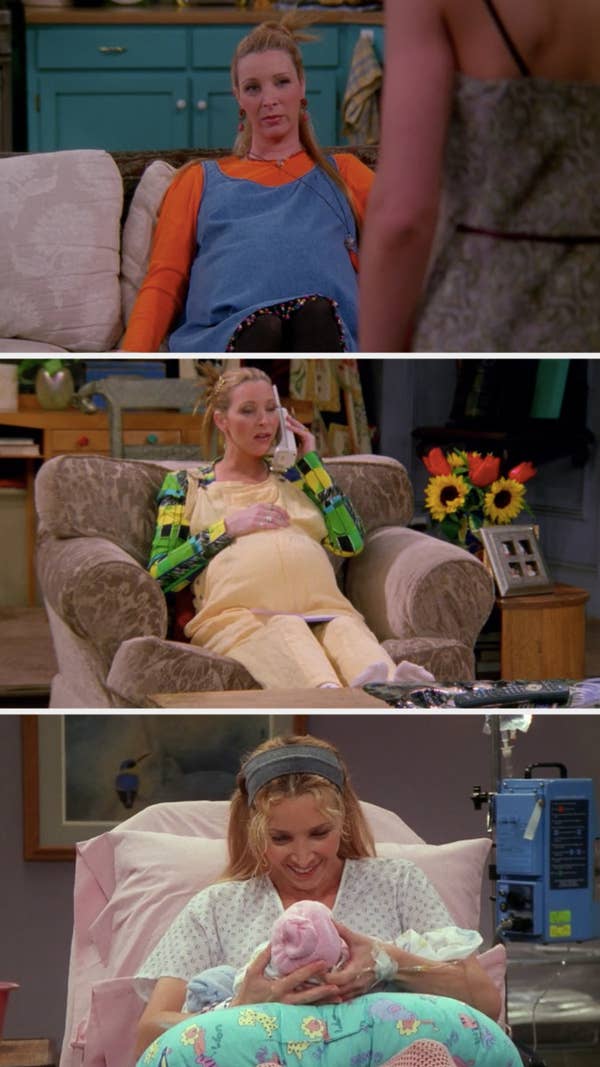 Lisa recalled her experience with being pregnant on set and how the cast even included her baby in their pre-show ritual.
2. In Season 2 of Grey's Anatomy, Chandra Wilson's pregnancy was written into the show. Not only did they include her pregnancy, but they also gave us the scene with George and Bailey which is one of the most iconic scenes in the entire series.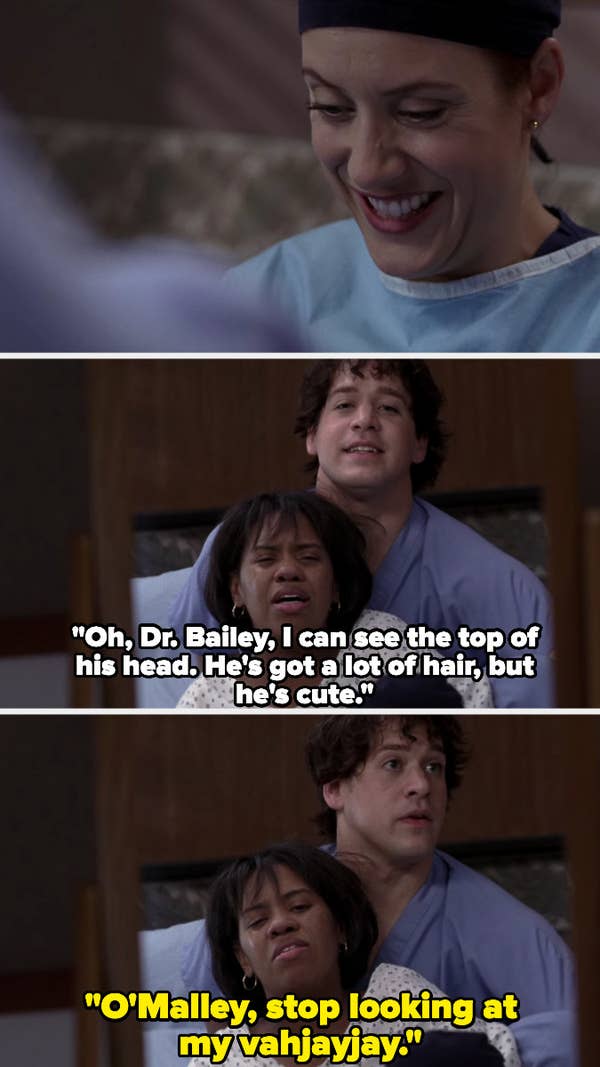 Thoughts: Shonda Rhimes not only added Wilson's pregnancy into the show, but she also did it in a wonderful way that gave us one of the best moments in all 17 seasons! Brava!
3. When Jessica Capshaw from Grey's Anatomy was pregnant during Season 7, instead of writing it into the show, they sent Arizona off to do some work in Africa, which ultimately led to her and Callie breaking up.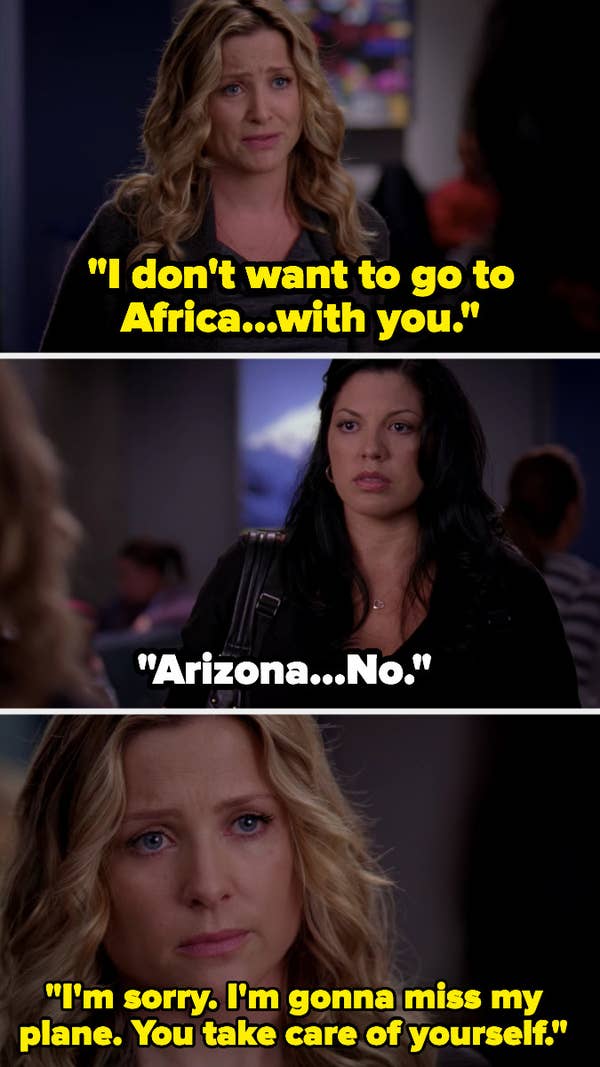 They also shot her scenes mainly from the chest up and even had a body double if they needed any full-body shots of her. In 2012, Capshaw became pregnant again, and Grey's Anatomy just decided to use some classic techniques (oversize scrubs) to hide it.
4. Alyson Hannigan was pregnant during Season 4 of How I Met Your Mother, but instead of writing it into the show, they had her character participate in a hot dog eating contest where she ate 29 hot dogs, and her baby bump served as her food baby.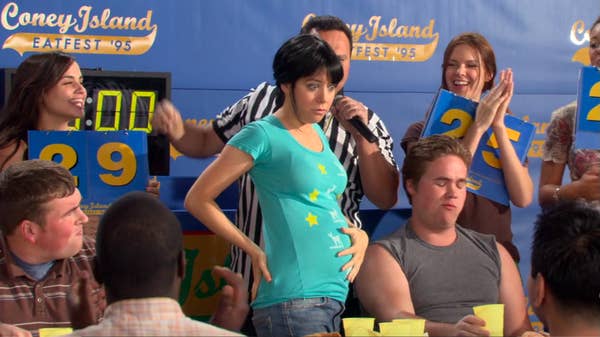 The second time she got pregnant, they wrote it into the show by making her character Lily also pregnant.
5. During Season 3 of Desperate Housewives, Marcia Cross became pregnant with twins and was put on bed rest by her doctor. Since she couldn't travel to set, the showrunners just packed up the set and filmed in her house.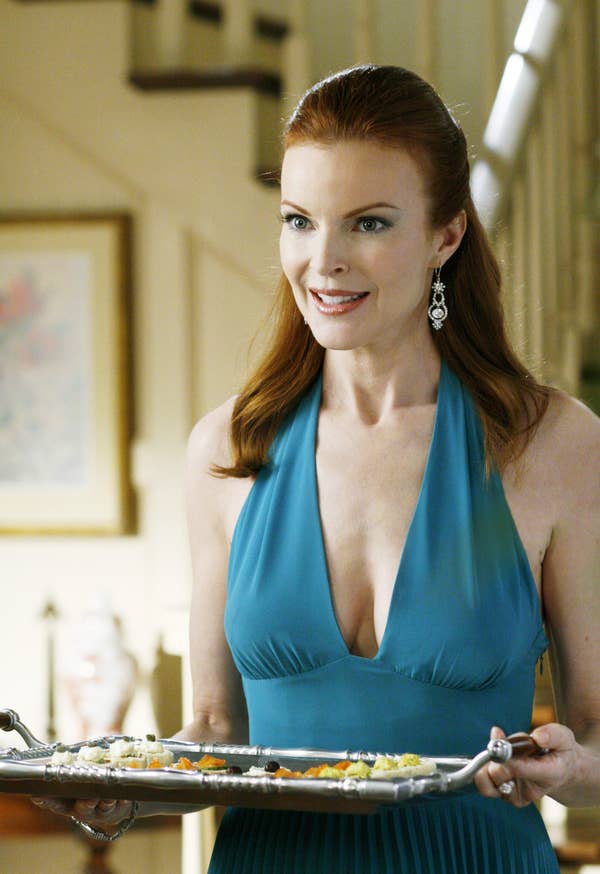 Two episodes were filmed there, and it was totally allowed because she could finish the season while also following the doctor's orders.
6. Holly Marie Combs was pregnant during Season 6 of Charmed, and instead of using any gimmicks, they simply decided to write it into the show.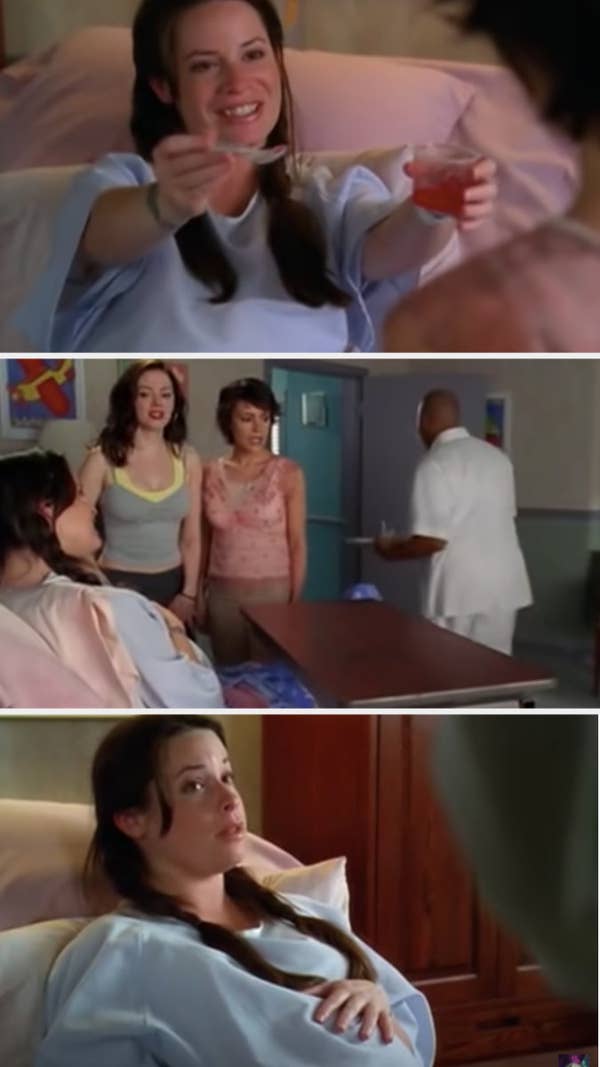 This is where she had Chris, her second son, in the series. The season even had a six-month time jump halfway into the season to help fit with Combs' pregnancy.
7. Kerry Washington, who played Olivia Pope on Scandal, was pregnant during Season 3, which resulted in her baby bump being hidden behind large objects like oversized purses and strategically placed lamps.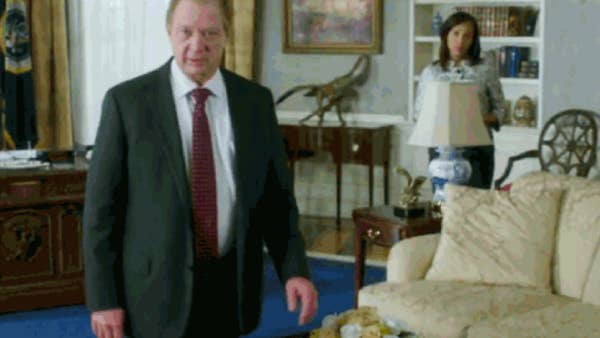 The season was also cut short by a few episodes to accommodate her pregnancy. Instead of 22 episodes, Season 3 only had 18. When she got pregnant again during Season 6, the show again cut the season short a few episodes.
8. When Sarah Jessica Parker from Sex and the City got pregnant, the show simply shortened the season.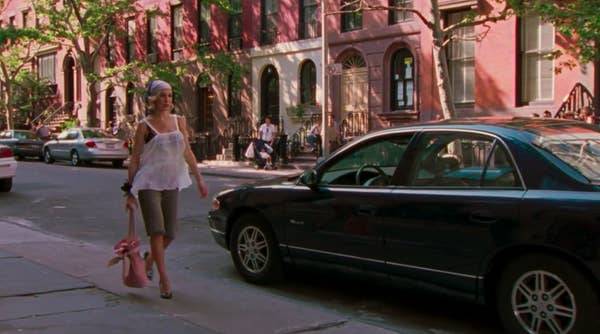 The fifth season was shortened from 13 episodes to just eight. On top of that, she also wore more oversized shirts to cover up her baby bump better.
9. In Season 5 of New Girl, when Zooey Deschanel got pregnant, they added Megan Fox as a temporary new character while Deschanel went on maternity leave.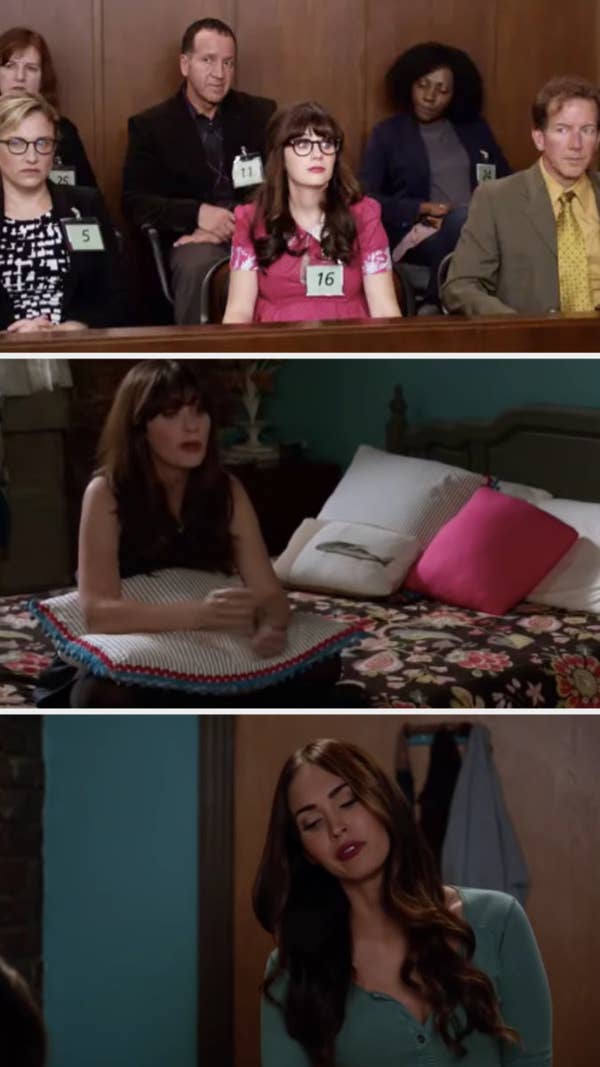 Liz Meriwether, the show's creator, spoke about having Deschannal work while being pregnant during an interview with the Hollywood Reporter.
10. On Friends, when Courteney Cox got pregnant during the final season, it wasn't written into her storyline as Monica was infertile, but they hid her baby bump as best they could.

They attempted to conceal her baby bump by layering outfits with jackets and dressing Monica in flowy shirts, but it was still pretty noticeable.
11. Julie Bowen was actually pregnant with twins during the very first episode of Modern Family. They didn't use any over-the-top tactics to hide her pregnancy either.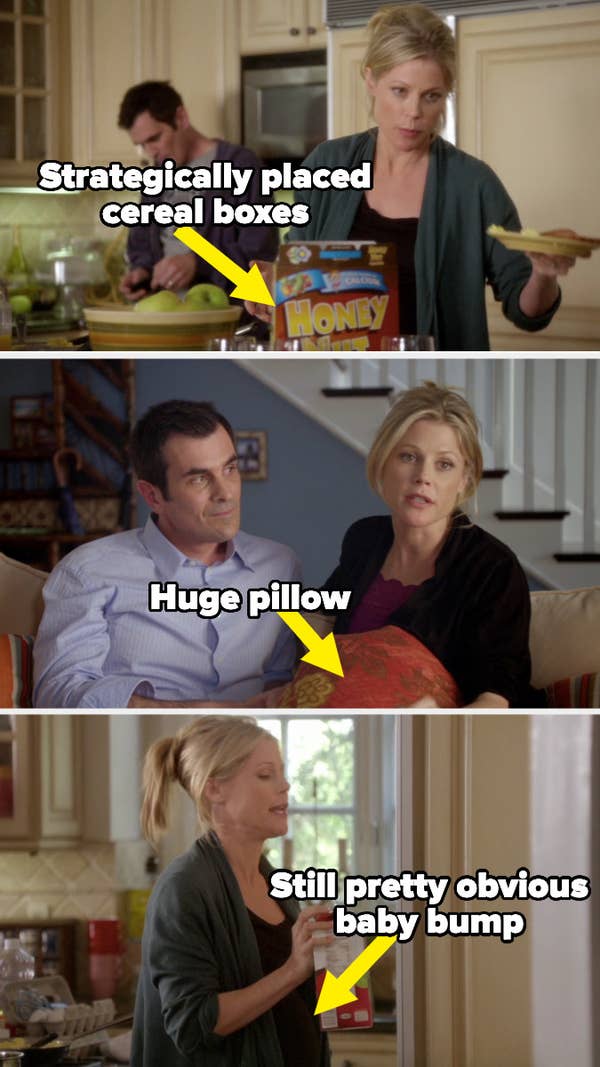 When talking about being pregnant, Bowen said, "I was pregnant with twins, and I kept thinking they weren't going to hire me," she explained to People magazine. "They kept bringing me in over and over and sort of staring at my humungous belly, and I thought,' I'm never getting this job.'"
12. When Ellen Pompeo from Grey's Anatomy was pregnant in Season 6, they decided not to write it into the show. Instead, she rested in bed for a few episodes after having surgery from giving her father part of her liver.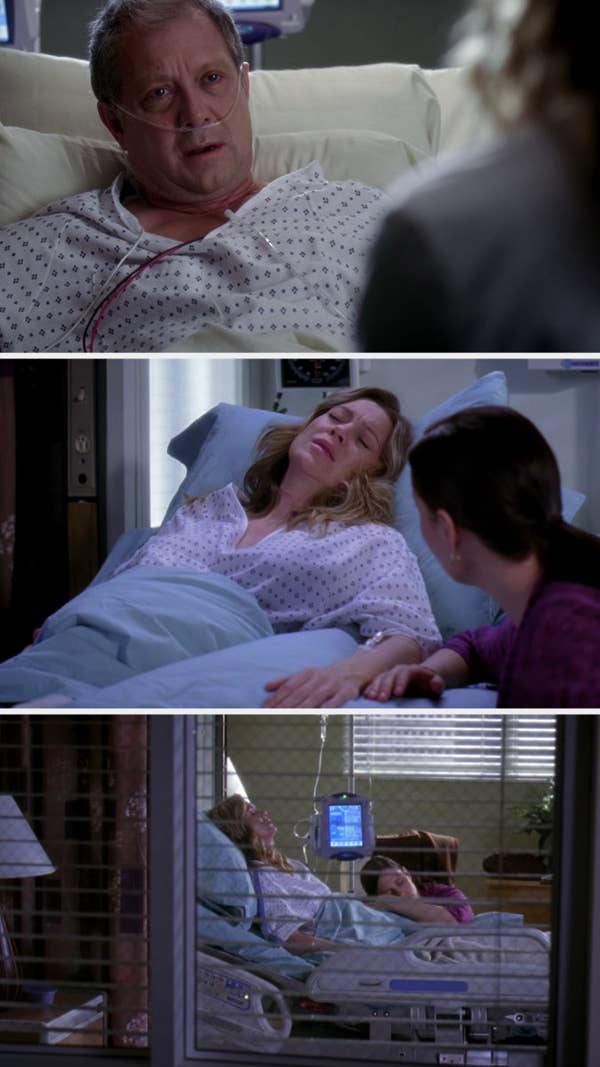 Ellen only took four weeks off for maternity leave before returning to work to continue playing Dr. Meredith Grey.
13. When January Jones from Mad Men became pregnant, the writer's decided to go with the old "Let's make her overweight" trick. The show focused on Betty's obsession with her weight gain when she was diagnosed with a tumor on her thyroid that later turns out to be benign in Season 5.

Jones was dressed in a fat suit during these scenes and also had prosthetic makeup to make her appear bigger.
14. When Jane Leeves' from Frasier was pregnant during Season 8, the show decided to tap into Hollywood's longest-running, unfunny joke by making her character Daphne get sent to fat camp.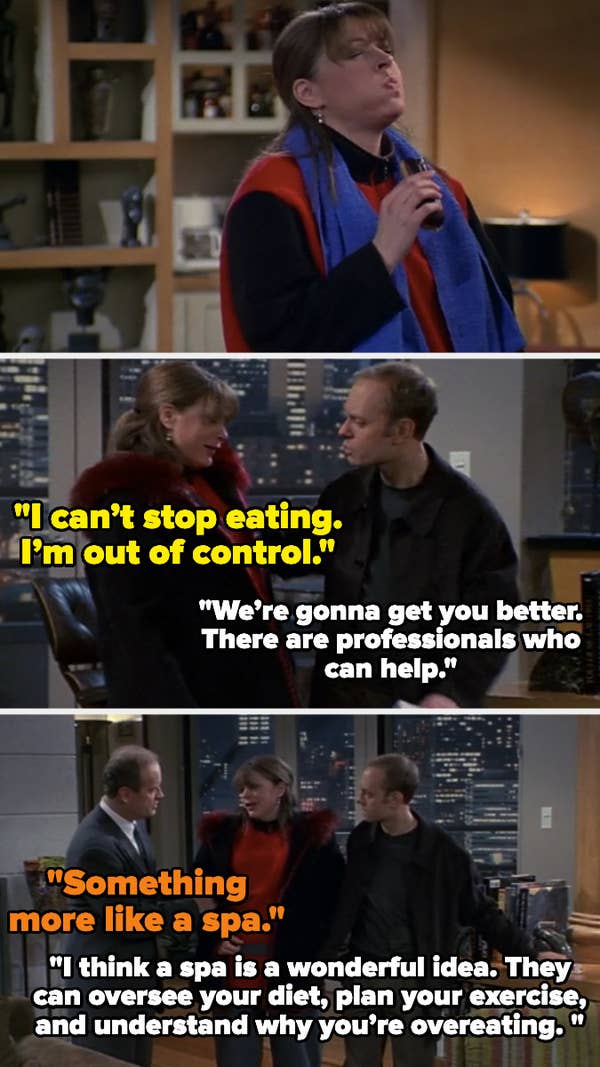 Her character became obsessed with food and then ending up going to a weight loss spa and ends up losing 9 pounds and 12 ounces, which was the weight of Leeves baby IRL.
15. And finally, the writers and producers of Melrose Place didn't add Hunter Tylo's baby to the show. Instead, they fired her.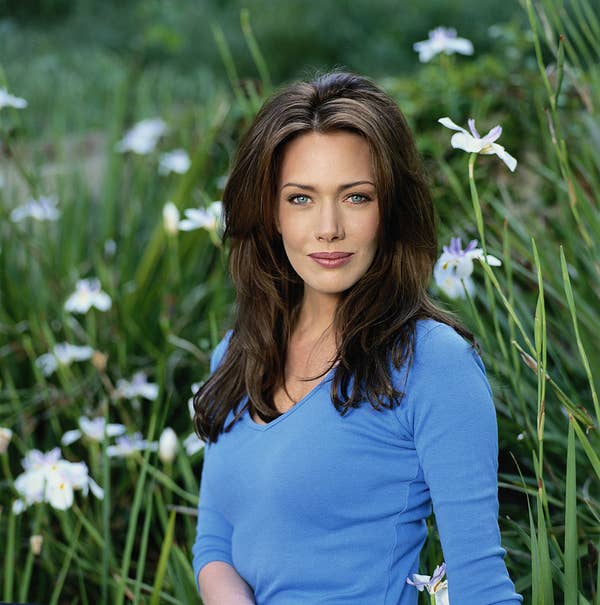 She never even got to be on the show because she announced she was pregnant one month after being hired to appear on the show. Of course, Tylo sued the producers, and she won the case, earning nearly $5 million.