Courteney Cox is the only one of the main cast members of Friends to not get an Emmy nomination during the show's run – but why was she left aside for a decade? Created by David Crane and Marta Kauffman, Friends premiered on NBC in 1994 and came to an end in 2004 after 10 successful seasons. Friends continues to be considered one of the best TV shows of all time, and its arrival to the world of streaming has expanded its fanbase, along with a special reunion episode released on HBO Max.
Friends followed a group of six young adults living in New York City and doing their best to juggle their social, personal, and professional lives, along with whatever adulthood threw their way. Monica, Chandler, Phoebe, Joey, Rachel, and Ross became widely popular thanks to their unforgettable one-liners and their personalities being quite relatable, and with time, they became part of pop culture. Friends is one of the most successful sitcoms ever, and as such it received various nominations and awards throughout its run, but only one actress from the main cast never got an Emmy nomination for her role in the show: Courteney Cox.
Courteney Cox played Monica Geller in all seasons of Friends and was part of the main cast. As such, she was at the center of some of the show's most important storylines, such as her romance with Chandler Bing (Matthew Perry) and their struggles to have children. It was thanks to Monica that Rachel joined the group as she let her stay with her after she ran away from her wedding, so it's thanks to her that the events of the series took place. This, along with Cox's performance, wasn't enough to grant her an Emmy nomination, while all of her main co-stars were nominated at least once. Cox recently told Howard Stern on his SiriusXM show (via Insider) that being left aside hurt her feelings, but she was always happy that her friends' performances were being recognized.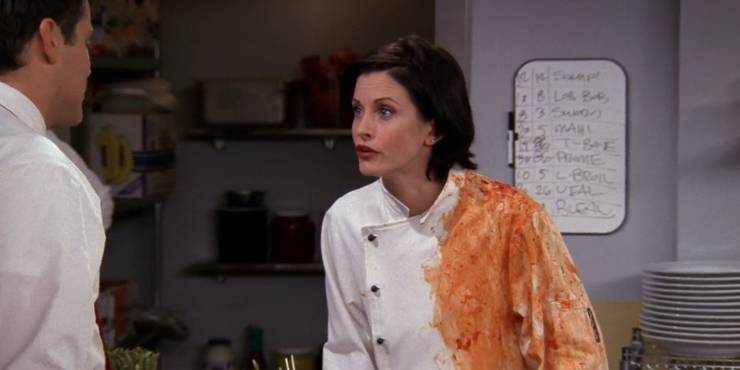 A reason for Courteney Cox never getting an Emmy nomination for her role as Monica Geller hasn't been revealed, but this isn't the first time an actress or actor is overseen by award committees. It's now common for the audience to point out every snub in awards nominations, especially those from the Academy and Golden Globes, but there have also been a bunch of Emmy snubs through the years, and Courteney Cox is a great example of this. It's not that her performance wasn't good or didn't resonate with the audience, as Monica was actually one of the most beloved characters (though it has to be said, it took her a while to get to that), so the reasons for Cox not being nominated while Friends was airing are known only to those involved with the nominations. As for the rest, Jennifer Aniston was nominated five times, Lisa Kudrow six times, Matt LeBlanc three times, and Matthew Perry and David Schwimmer once, but only Aniston and Kudrow took the award home.
The Friends reunion special not only brought the cast together one more time and gave fans the meet-up they wanted (though not exactly as they were hoping), as it also gave Courteney Cox her first Emmy nomination related to the show. Cox, along with her co-stars, served as producer of the reunion special, which got nominated in the category of Outstanding Variety Special (Pre-Recorded). It's an interesting turn of events in the history of Friends, but the real reason why Courteney Cox was overseen by the Emmys for so many years remains a mystery.