1. Serena Williams is such a big fan of Nickelodeon's Avatar franchise that she appeared in both Avatar: The Last Airbender and its sequel series, The Legend of Korra. In the former, she voiced Ming, a Fire Nation prison guard who is kind to Iroh, and in the latter, she played a "female sage." Ming appears in the Season 3 episode "The Day of Black Sun: Part 1 – The Invasion," while the female sage can be found in Season 2's "Beginnings, Part 1."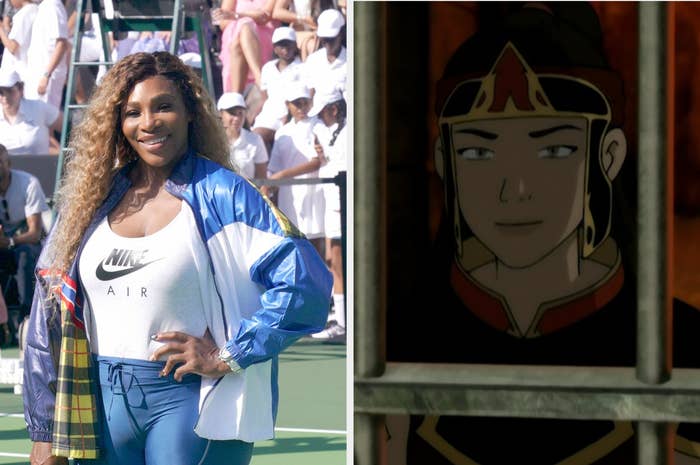 Here's a clip from her appearance on Avatar: The Last Airbender. Ming appears at 11:35:

2. Lin-Manuel Miranda voiced his support for Brooklyn Nine-Nine when Fox canceled the show, tweeting, "I only watch like 4 things. This is one of the things." After it was saved by NBC, Miranda appeared as Amy Santiago's perfect older brother, David Santiago, in the Season 6 episode "The Golden Child."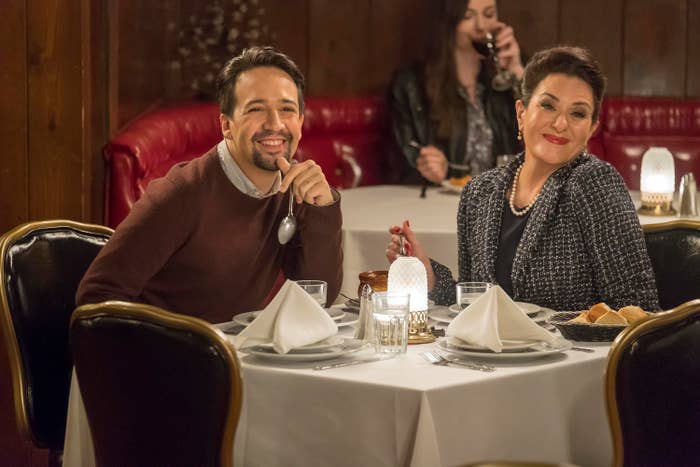 Here are some clips from his appearance:

3. Sean Astin was another supporter of Brooklyn Nine-Nine following its near-cancellation, which got the attention of co-creator Dan Goor, a huge Astin fan.
Like Miranda, Astin appeared in a Season 6 episode. He portrayed an NYPD cyber operations expert in "Ticking Clocks."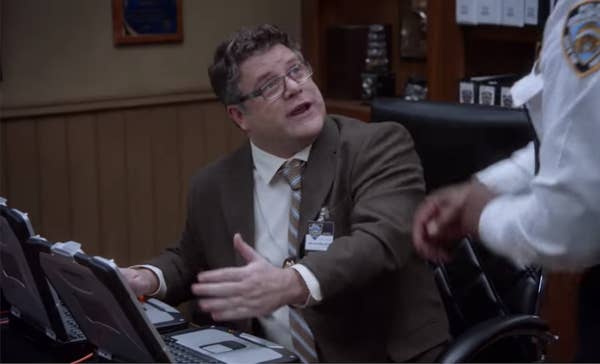 Here's a clip from his appearance:

4. Prince's manager cold-emailed Zooey Deschanel to tell her that Prince loved New Girl and wanted to appear on an episode as himself. At first, Deschanel thought it was a prank, but she soon learned that the email was real. Prince and his band had started watching the show while on tour, and they'd gotten "really invested in the Nick and Jess relationship."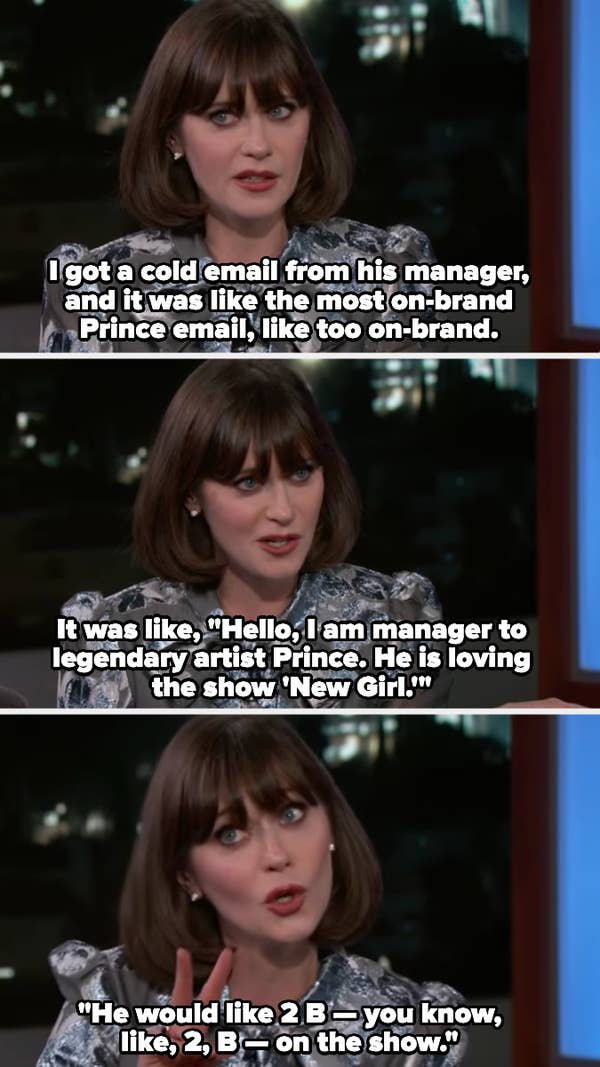 While Deschanel and the rest of the team behind the show were nervous about whether the pop icon would actually show up, Prince followed through and was apparently delighted to work with onset. He appeared in the Season 3 episode entitled, appropriately enough, "Prince."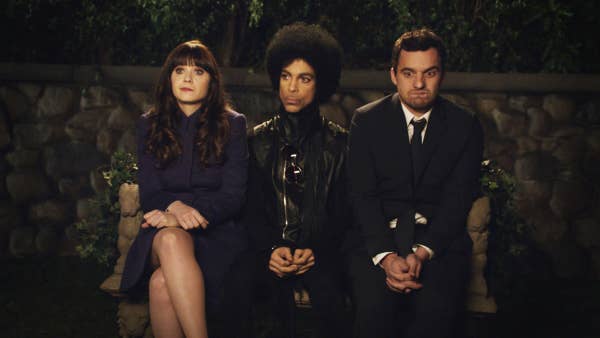 Here's a clip from this appearance:

5. Questlove once said in an interview that, "It's my fantasy to play a dead body on Law & Order." A few months later, SVU actor Ice-T tweeted a photo of him doing just that. Questlove appeared in the Season 15 episode "Criminal Stories."
Questlove himself posted this photo from his time on set.
6. Britney Spears adored How I Met Your Mother, so she asked her team to contact co-creators Carter Bays and Craig Thomas about the possibility of a guest spot. The cast and crew were nervous about having Britney on the show since they were afraid that "the series would look like they were relying on celebrities to bring in ratings."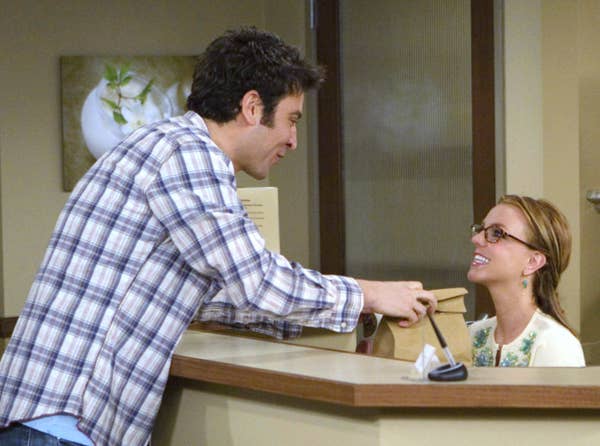 But they ended up loving her performance so much that Spears was asked to reprise her role as Abby, a receptionist with a vendetta against Barney. Spears appeared in Season 3's "Ten Sessions" and "Everything Must Go."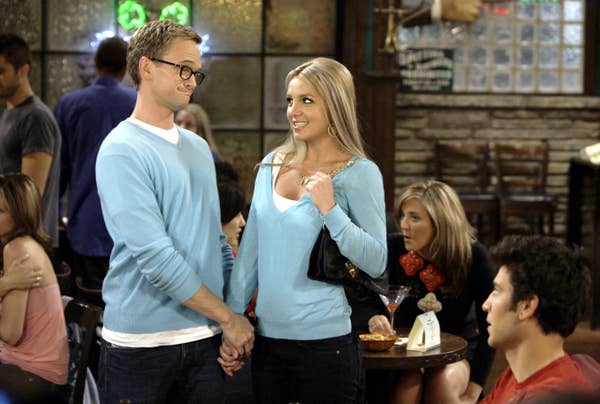 Here's a clip from her appearance:

7. Whoopi Goldberg approached Gene Roddenberry when Star Trek: The Next Generation was at the beginning of its run and told him that she wanted to appear on the show because before the original Star Trek (1966-1969), there were no Black people in sci-fi. Lt. Uhura, a "trailblazing role for African-Americans on TV," had inspired Goldberg when she was a young girl.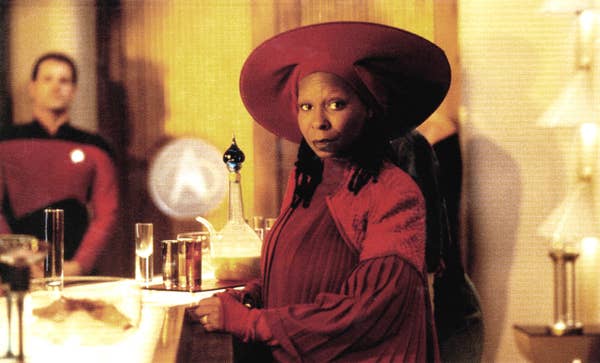 Unlike other entries on this list, Goldberg's role as Guinan the bartender was significant and recurring. She appeared in 29 episodes of Star Trek: The Next Generation and in the films Star Trek Generations and Star Trek: Nemesis.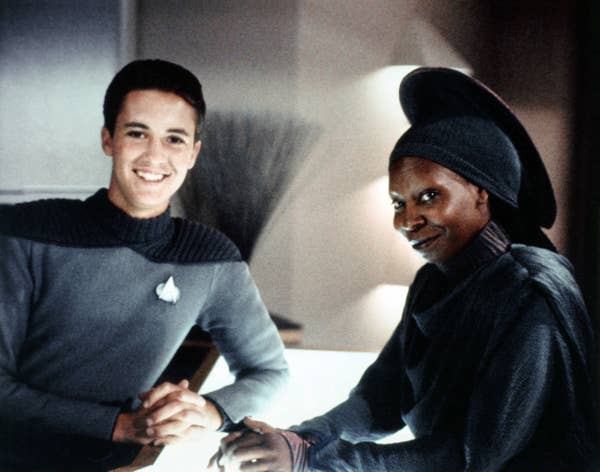 Here's a clip from her performance:

8. Kesha got the call to audition for Jane the Virgin on her first day off in three weeks, and though she was hesitant to head back to work when she was supposed to be relaxing, as soon as she found at which show it was, she responded, "Oh yeah, fuck yeah."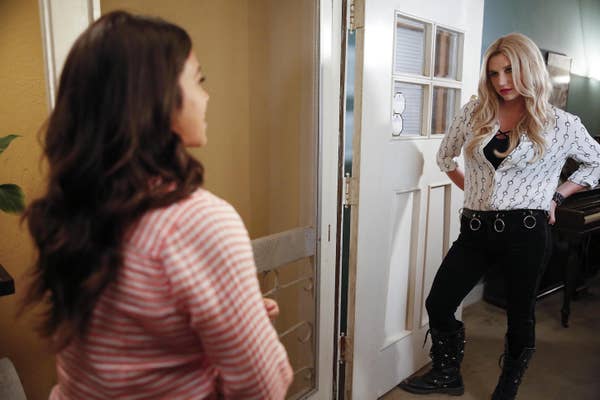 About her audition, Kesha said, "I'm used to making an ass of myself in front of people. I feel like most auditions, at least for comedy, are just seeing how much of an ass you're willing to make of yourself." Kesha played Annabelle, Jane, and the newborn Mateo's new next-door neighbor, prioritizing her loud band practice over the baby's sleep schedule. She appears in the Season 2 episode "Chapter Twenty-Four."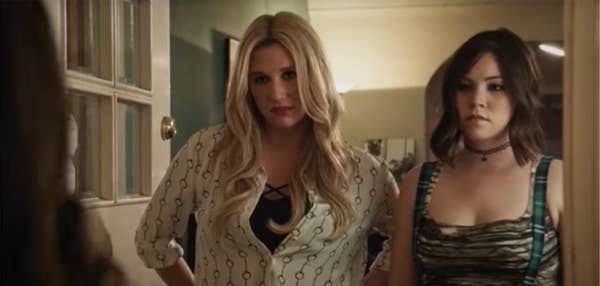 Here's a clip from her performance:

9. Jeff Greenberg, the casting director for Modern Family, said that Jesse Eisenberg had been "very proactive" about wanting to do the show and had regularly had his agent check in about the possibility of a guest spot. It paid off, and Eisenberg appeared in the Season 5 episode "Under Pressure" as a neighbor who took eco-friendliness to a passive-aggressive level.
Here's a clip of his performance (it begins at around 00:20):

10. Mark Hamill is a big fan of What We Do in the Shadows. He first watched the movie with his son and then discovered the TV show, which exceeded his expectations. Hamill apparently has a history of falling in love with shows that then get canceled, so he recommended the comedy to his Twitter followers on several occasions, which got him on the creative team's "radar."

Hamill figured he'd be playing "a meter reader, or a next-door neighbor, or someone at the Department of Motor Vehicles." So when he was cast as Jim the Vampire, a nemesis of Laszlo Cravensworth, he "flipped out." Jim ends the episode as an assistant volleyball coach living in a small town in Pennsylvania.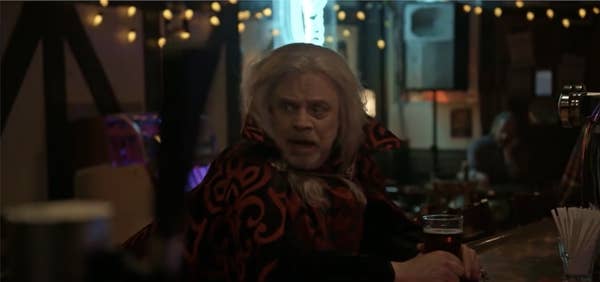 Here's a clip from his appearance:

11. Patrick J. Adams, a star of USA Network's Suits, tweeted in July 2013 that he was "hooked" on Orphan Black. He added "#pleasecanigueststar," and later that year, his wish was granted: Adams played Jesse, a "brave but regular guy" who gets caught up in clone drama.
Adams ultimately appeared in two episodes: Season 2's "To Hound Nature in Her Wanderings" and Season 3's "History Yet To Be Written."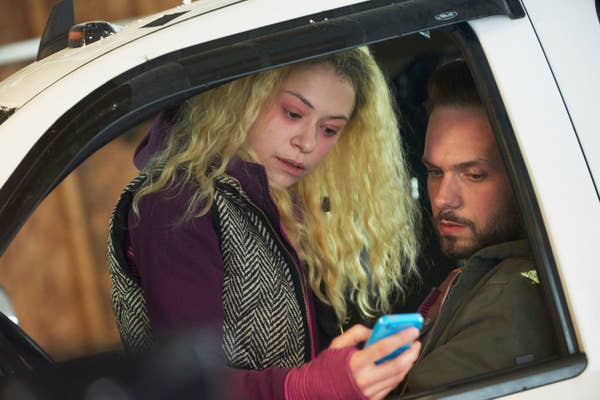 Here's a clip from his performance:

12. Jason Mantzoukas is a Gilmore Girls devotee, so much so that as of 2016, he'd appeared on the Gilmore Guys fan podcast five times. So naturally, his cameo appearance in the revival Gilmore Girls: A Year in the Life was a big moment. Mantzoukas played Naomi Shropshire's lawyer in the second episode "Spring."
If you're so inclined, you can check out one of Mantzoukas's Gilmore Guys appearances here:

13. Josh Groban called himself a "huge fan" of both the British and American versions of The Office and said that he was "thrilled" when he got offered a cameo on the "unique, hilarious" sitcom. Groban played Walter Jr., the younger brother of Ed Helms's Andy Bernard. The character appeared in two episodes: Season 8's "Garden Party" and Season 9's "The Boat."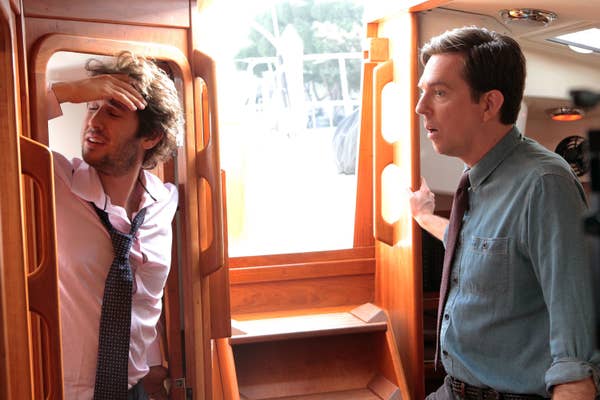 Here's a brief clip of his performance in "Garden Party." Groban appears at 1:14:

14. Will Ferrell also wanted to appear on The Office, explaining, "I'm friends with Steve [Carell] and a fan of the show." Ferrell's character, Deangelo Vickers, had a story arc that lasted four episodes, three of which were Carell's last episodes as Michael Scott.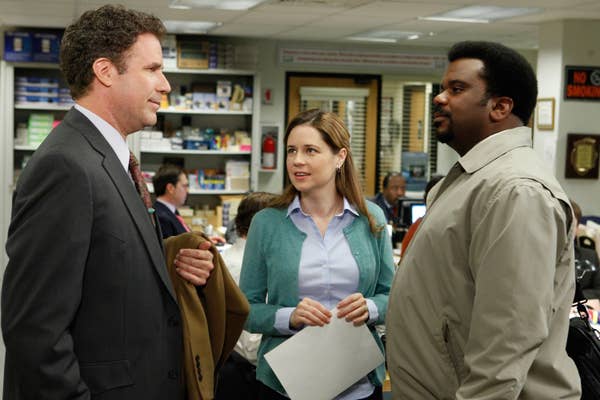 Here's a compilation of Ferrell's funniest moments on the show:

15. Michelle Obama chose to appear as herself on iCarly, partly because her daughters loved the show, and they'd often watch it together. Additionally, Carly's father is an Air Force colonel fits with the First Lady's "initiative to support military families."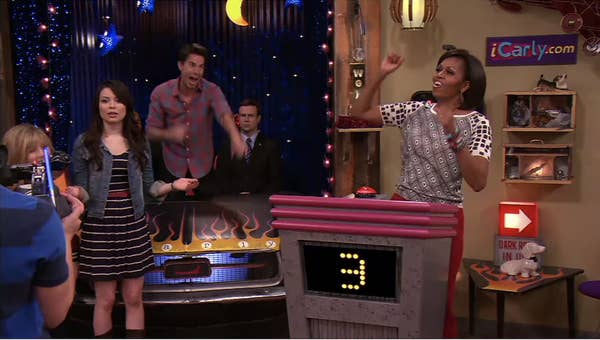 The Season 5 episode "iMeet the First Lady" revolves around Carly, Sam, and Freddie throwing Carly's father a virtual birthday celebration after he cannot see his daughter in person due to an emergency. Michelle Obama sees the webcast and shows up at their studio to tell them how impressed and touched she was by the gesture. She then agrees to appear on an episode of the web show, where she plays a rousing game of "Is Gibby Wearing a Hat or Criticizing a Hamster?"
Here's a clip from her appearance: