Julia Roberts needed some convincing before she agreed to appear on Friends as a guest star. Over the course of ten seasons, the NBC sitcom featured a plethora of familiar faces in memorable roles. Relatively speaking, Roberts was one of the first. She showed up in the pivotal Friends season 2 episode "The One After the Superbowl," which consisted of two parts.
As the title indicates, the episode originally aired directly after Super Bowl XXX in 1996. NBC, which was carrying the event, wanted to goose up interest in its weekly programming and opted to put its best foot forward. Thanks to its already immense popularity, Friends was able to bring notable names for the Super Bowl two-parter. Brooke Shields, Jean-Claude Van Damme, and musician Chris Isaak all appeared as memorable characters. But Roberts, who arguably stole the show with her performance as Susie Moss, had to be persuaded into the gig.
Speaking with THR, as part of an oral history of "The One After the Superbowl," executive producer Kevin Bright and writer Alexa Junge recalled how the Pretty Woman star agreed to the guest spot only after a fair amount of flirting with Friends lead Matthew Perry, who was in a relationship with Roberts at the time. Roberts also required that Perry write up some homework on, of all things, quantum physics. You can read the quotes from Bright and Junge below.
Bright: Do you know the story of how we got her? Matthew asked her to be on the show. She wrote back to him, "Write me a paper on quantum physics and I'll do it." My understanding is that Matthew went away and wrote a paper and faxed it to her the next day.
Junge: They may have met before the episode, but she was interested in him from afar because he's so charming. There was a lot of flirting over faxing. She was giving him these questionnaires like, "Why should I go out with you?" And everyone in the writers room helped him explain to her why. He could do pretty well without us, but there was no question we were on Team Matthew and trying to make it happen for him.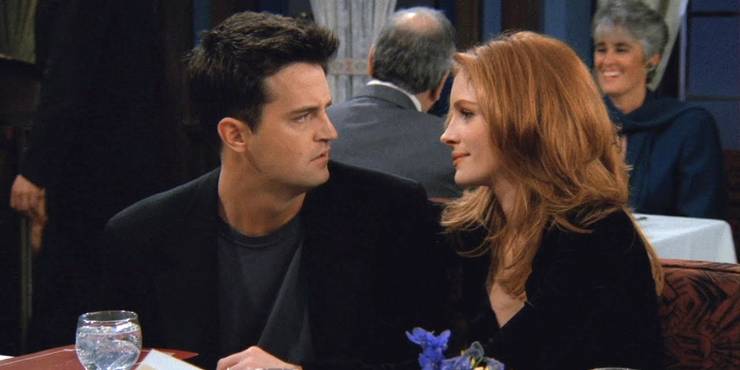 Going the extra mile would pay off, ultimately, as "The One After the Superbowl" turned to be the highest-rated episode of Friends in terms of ratings. And, of all the big guests, Roberts had perhaps the most interesting part. Susie initially shows interest in Perry's character, Chandler Bing. But it soon turns out that she's holding a grudge because of something that happened when the two were in elementary school. This theme would repeat throughout the rest of Friends.
It's arguably the relationship between Monica and Chandler that changes the duo for the better, despite its ups and downs. With her scene-stealing portrayal of Susie. Roberts offered an audience an early preview of the fact that Chandler would struggle for a long time before committing to a healthy relationship. And, of course, she was pretty hilarious as well.