Super fans definitely know the show's basic "secrets," like how the real-life spouses of Alyson Hannigan, Cobie Smulders, and Neil Patrick Harris all appeared on HIMYM throughout the series. The man behind Future Ted's voiceovers is no mystery either – who else was disappointed that Josh Radnor didn't morph into Bob Saget when the final flashforward began in the series finale? If you didn't know any of those tidbits, you may want to reconsider your true fan status.
1. A Real-Life Wedding Proposal Was Shown In The Season 2 Finale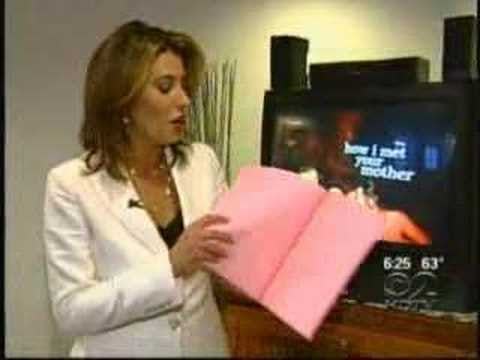 In the episode "Something Blue," Robin freaked when she found an engagement ring at the bottom of her champagne glass, thinking that Ted was trying to propose to her. The ring actually belonged to a couple eating at the restaurant table next to them, but those weren't actors pretending to get engaged. Brooklyn couple Jana Rugan and Timothy Russo were huge fans of HIMYM, and Russo turned to his comedy writer brother to help him plan out a trip to the show's Los Angeles set. His brother had a friend who worked on the show, and Russo's initial plan was just to surprise Rugan with a tour of the set. However, his brother suggested to Russo that he propose to Rugan while visiting the HIMYM lot.
2. The Cast Didn't Film In Front Of A Studio Audience
Usually you can guarantee that any sitcom with a laugh track had a studio audience watching the cast work, but that wasn't the case for HIMYM. Because the narrative played around with time so much and frequently included flashbacks and flashforwards, it would have been too confusing for an audience to watch the process. I mean, can you imagine people trying to follow episodes like "Subway Wars" and "Brunch" out of context?
3. If The Show Was Cancelled Early On, Victoria Would've Been The Mother
Some of the controversy behind the HIMYM finale originated from the fact that the very last scene was filmed eight years before the series wrapped and before creators Carter Bays and Craig Thomas could have foreseen how their characters would change over time. So, while actors David Henrie and Lyndsy Fonseca filmed the final scene as Ted's kids circa Season 1, baker Victoria was the only non-Robin love interest in sight for Ted.
4. Jason Segel Didn't Know How Lily Would Tell Marshall About His Dad's Death
In the Season 6 episode "Bad News," moments after learning that his fertility was in good shape, Marshall was hit with the bombshell that his dad didn't survive a heart attack. The conversation between Marshall and Lily is one of the show's most heartbreaking moments, but Segel went into the scene fairly blind.
5. Alyson Hannigan's Daughter Was Fired From Playing Marshall and Lily's Second Child
The couple's second pregnancy was briefly mentioned in Season 9, and a glimpse at their daughter Daisy was seen in a flashforward to the family's life in Italy. According to Hannigan, her own daughter was considered to play Daisy, but the creative team eventually cut her from the role because she looked too old to pass as the infant Daisy.
6. Conan O'Brien Appears In The Background Of One Episode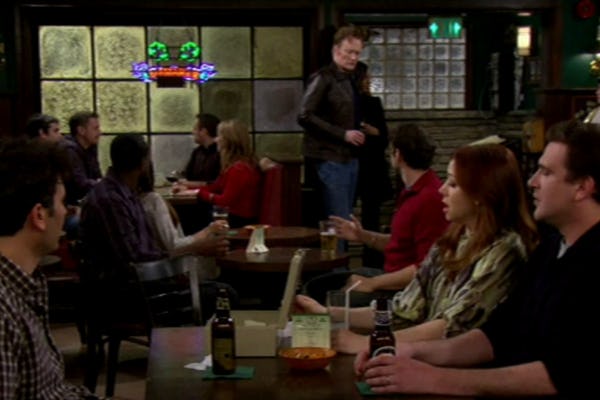 You can spot the talk show host passing the gang at MacLaren's in the Season 7 episode "No Pressure." Although HIMYM was known for including some pretty epic guest stars every now and then, O'Brien requested a background cameo when he won a spot on the show via a charity auction. While talking with guest Neil Patrick Harris on Conan, O'Brien revealed that writers wanted to do much more with him:
7. The Original Description For Barney Was Much, *Much* Different
In an interview with The A.V. Club, Neil Patrick Harris revealed that Barney was originally written as a "Jack Black, John Belushi type." In his audition, Harris committed to his own wacky version of the character, even acting out Barney's love for laser tag and rolling all over the audition room.