Friends co-creator Marta Kauffman once again addressed the show's diversity issues during a CNN special titled History of the Sitcom. Friends detailed the lives of six twenty-somethings who lived and worked together in New York City in the 1990s. Led by an ensemble cast that included Courteney Cox, Jennifer Aniston, Lisa Kudrow, David Schwimmer, Matthew Perry, and Matt LeBlanc, the series ran for ten seasons on NBC, heralded for its quick-witted writing and the way the actors seamlessly interacted with one another. Friends was part of the Thursday night block of programming called "must-see TV" and led the peacock network in the ratings until its final episode aired in May 2004.
Kauffman, along with her longtime friend, David Crane, were executive producers of Friends along with Kevin Bright. Kauffman and Crane started working on Friends, one of the biggest sitcoms in history, in 1993. The characters she and Crane created, Joey, Chandler, Monica, Phoebe, Rachel, and Ross, became some of the most relatable in television. The characters felt like the type of group you would want to spend time with, and within each, most viewers found a kernel of themselves.
"It was, to a certain extent, a product of the time period. And of my own ignorance. There were black shows and there were white shows. There weren't a lot of shows that were interracial. I guess at the time I was thinking, 'This is what I know. This is what I know.'"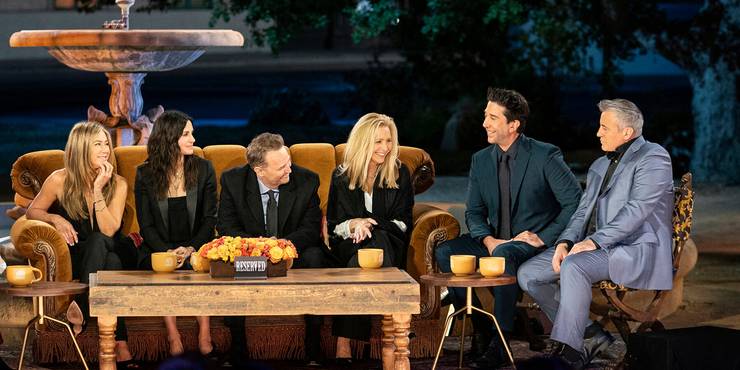 friends reunion show HBO max
Kaufmann also addressed this issue during a separate interview where she said, "I wish I knew then what I knew today," she stated. "I would have made very different decisions. We've always encouraged people of diversity in our company, but I didn't do enough." Cast in supporting roles throughout the series were Aisha Tyler (Charlie), Gabrielle Union (Kristen), Sherri Shepherd (Rhonda), Phil Lewis (Steve), Janet Hubert (Elaine), and Jason George (The Fireman), and Lauren Tom (Julie). The peppering of these actors of color was not enough to satisfy longtime critics of the series, who always believed the cast was whitewashed. However, the creators stood by the fact that they saw performers of every race, creed, and religion when they cast the show's titular roles and ultimately went with the actors that had the most chemistry together.
The unrealistic television world of Friends continues to be criticized for many things other than its diversity issues. There have been times the show has used offensive jokes to get laughs. Many were homophobic, transphobic, misogynistic, and others that could be considered both fat-shaming and slut-shaming. However, it is good to learn that if the show were made today, its creators might have a different mindset when it came to not only casting but the topics and jokes that were featured on the series as well.